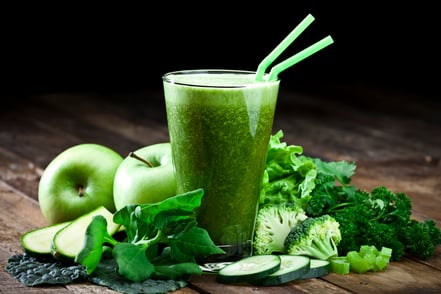 We've all been here before: When it seems the long, gray winter will never end and you make one more pot of hearty vegetable soup or another casserole; or when the lackluster tomatoes and almost pinkish-white strawberries just aren't cutting it. It's time to get creative!
As a Hoosier native myself, I long for the tastes of summer more often than not, especially this time of year. What are some ways to get more variety into your diet in late winter? Look no further: we've got some ideas to tide you over until you can get your hands on some summertime Indiana-grown treasures!
Breakfast
It's smoothie time! Smoothies are fantastic because they are nutritional powerhouses, can disguise fruits and vegetables that you might be on the fence about, and never require a recipe. To keep it simple, use frozen-fruit mixtures and rinse out your blender as soon as you are done to avoid having to scrub off dried-on fruit fibers later.
A basic guide on where to start: Combine 1 cup of frozen fruit with about ¾ cup liquid (I personally love vanilla-flavored soy milk). Optional add-ins could include a handful of kale or spinach (what better way to hide those greens than a sweet smoothie?), a spoonful or two or chia seed or ground flaxseed, a little peanut butter or almond butter, rolled oats, or even a banana to add a little extra creaminess. Top with a drizzle of honey or a little granola.
Lunch
A light and citrusy dressing is a refreshing way to beat the winter blues! A favorite dressing in my house is this orange tahini dressing. It tastes delicious on any leafy green, so if you aren't a fan of kale, just top your spinach or romaine lettuce with it instead. Whisk together the following ingredients in a bowl:
2–3 tablespoons orange juice (fresh-squeezed preferred)
2½ tablespoons tahini
2 tablespoons apple-cider vinegar
1 tablespoon maple syrup
1 tablespoon olive oil
2 teaspoons orange zest
Salt and pepper to taste
Massage dressing into kale and top with chopped apple, grapefruit (peeled and sliced), and pepitas or nuts of your choice (walnuts are my go-to).
Dinner
I'm not sure about you, but if something requires a recipe, there's a big chance I might never get around to making a dish—we all have our reasons, right? Roasted cauliflower and chickpea tacos are one entrée that requires no real recipe to follow. Trust me, it would be really hard to mess this one up, even if you consider yourself a novice in the kitchen!
Toss chickpeas (from a can!) and chopped cauliflower on a baking sheet with a little olive oil and a variety of spices like chili powder, cumin, garlic powder, onion powder, and salt.
Roast in the oven at 400 degrees until chickpeas are crisp and cauliflower is tender (about 30 minutes).
Take a corn tortilla and place cauliflower and chickpeas on top. Top with chopped cabbage, jalapeño (if you like spice!), avocado/guacamole, and cilantro. Drizzle with lime juice. Sour cream and cheese are optional.
This recipe will deliver that healthy and refreshing dinner entrée you've been longing for since Thanksgiving!
Eat in Season and Use Frozen Fruits and Vegetables
Some things to keep in mind:
Use these in-season veggies to avoid breaking the bank—broccoli, cauliflower, cabbage, parsnips, kale, potatoes, sweet potato, butternut squash, and Brussels sprouts.
Use in-season citrus fruits like lemons, oranges, clementines, and tangerines.
Frozen fruits and vegetables are an absolute must! They are more nutrient-dense than their produce section counterparts because they are picked and frozen when they are at peak ripeness.
This blog was written by Lindsey Hehman, MA, RD, CD. To learn more about the NIFS bloggers, click here.