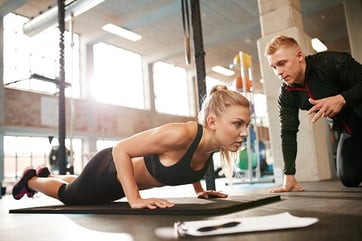 If you have spent time around sports, two terms that I am sure you have heard are technical and tactical. No matter what sport you have been around, at some point your coach planned a technical training session and a tactical training session. And in these sports, the technical sessions focused on the technique needed to be successful, and the tactical sessions focused on the "plans" behind how to make those work. I'd like to take a look at how you can put into place technical vs. tactical training in fitness, and in what ways this can benefit your training potential.
Technical Training in Fitness
The goal of any kind of technical preparation is to take skills specific to the activity and to improve them. In any form of movement or exercise, the body has both locomotive and bio-mechanical rules that it should be following in order to maximize potential. And the first step in technical training is to understand the movements that are supposed to be occurring during the exercise.
So what does all this mean? Let's put it into laymen's terms. I like to call it body awareness. You don't need to memorize every single muscle in the body and know its location, insertion points, etc., but if you have a body awareness of where you should feel something, what it should look like, and the benefits of the movement, your exercise potential will increase!
Let's take the bent-over row as an example:
Works upper and middle back.

Beneficial for all sorts of industries (carpenters sawing wood, nurses lifting patient to seated position, stay-at-home parent picking up the laundry basket).

Muscles used: lats, biceps, shoulders, deltoids, pecs, and triceps.

Where you should feel the exercise: middle and upper back.

Proper way to do the exercise: make sure you are bent over (using a bench or flat surface is ideal), be sure the back is flat and not rounded, without rotating your entire body lift the weight from a bent-over hanging-arm position up toward the armpit, feeling the shoulder blade move inward toward the spine.
As you can see, technical training certainly has its place in fitness. It's important to learn and feel body awareness to begin to grasp what you should be feeling. Take some time to learn and understand the different technical aspects of movements in your workout and maximize your potential. If you need help, our health fitness specialists here at NIFS can assist you with those things!
Tactical Training in Fitness
Tactical training is taking the exercises we know and building specific programs around improving regular-life movements and activities (aka functional training). You make the workout revolve around not only getting fit, but building strength and mobility to assist in your everyday movement patterns.
As fitness always evolves and changes, there has been a shift from "specific training" for folks like policemen, firefighters, and the military to taking some of those workout programs and making them fit the mold for the "general exerciser." Thus, it makes tactical exercise not focus on the workout itself, but hone in on the actual work being done in the workout. Tactical training is about taking exercise and making movements and programs carry over to functional, daily life movements like carries, running, swimming, etc.
Here are a few examples of tactical exercise (incorporate these into a workout for everyday-life impacts):
Kettlebell Suitcase Carry: Carry a

kettlebell

at your side while maintaining correct posture.
Jacob's Ladder: Good for those who climb ladders in their jobs (firefighters, carpenters, roofers, etc.).
Barbell deadlifts: Ensures proper form in order to help lift boxes, laundry baskets, children, etc.
Both technical training and tactical training have their places in the fitness world. If you are currently training technically, look at some tactical training and begin to incorporate it into your workouts. And if you are training tactically, take some time to look at technique and make sure you are doing things correctly in order to avoid injury and aid your progression.
This blog was written by Amanda Bireline, Fitness Center Manager. To find out more about the NIFS bloggers, click here.