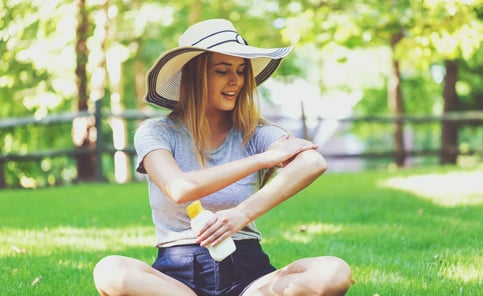 The glorious return to summer is upon us, and if you are like me, you will be spending as much time as possible soaking up sunshine as you take your leisure outdoors, take up hobbies in the yard and garden, and engage in group fitness bootcamp classes in the park. The sunshine feels good and has many benefits, including mood enhancement, vitamin D production, and even treatment for a number of skin conditions such as psoriasis and acne. There are, however, some dangers associated with extended sun exposure that can be limited with the use of sunscreen, most notably skin cancer.
Finding the Balance Between Healthy Sun Exposure and Overdoing It
After a long winter or even a rainy spring, predictably, we will want to get out and about on the very first day possible. The first exposures to the summer sun usually leave us with a surprisingly red glow, the first sunburn of the year. For some people, this sunburn is a rite of passage for the season. As I noted before, there are some dangers with overexposure to the sun that have more serious consequences than a simple sunburn. According to the Cleveland Clinic, skin cancer is the most common form of cancer, and the number of cases is on the rise. This cancer forms when prolonged exposure to the sun is accumulated over time.
The old saying "too much of a good thing" really resounds as we try to find the balance between healthy sun exposure and overdoing it. For many people, using sunscreen is a way to find a happy medium so that they can enjoy the outdoors. Scientists at Harvard have some healthy tips for those who may have reservations using sunscreen (such as developing acne and exposure to chemicals) and warn that the alternative to sunscreen usage is much, much worse. The biggest takeaway, though, is that sunscreen, by itself, will not be enough if limited prolonged overexposure to the sun is not your priority.
Tips for Staying Safe in the Sun
Here are some pointers that will take your sun safety to the next level.
Be aware of the dangers of overexposure.

There are many sources to help educate yourself about these dangers and the ways you can limit and prevent serious damage to your body.

Sunscreen is good, but it's not the only tool in the toolbox. You will also need sun-protective gear and clothing to stay safe.
Use sunscreen correctly. When using sunscreen, make sure you know the specific rating and reapply regularly.
Watch for skin changes. See your doctor if you develop any abnormal skin (always be safe, not sorry).
Prepare for Sun Exposure
Take time to treat your skin, your body, and your mind. We need sunlight to live, but we need to respect it. As we move into summer, more and more fitness classes are held outdoors. Make sure you are preparing for the sun. Ask your facility whether they provide sunscreen; NIFS provides stations at the entrances for your convenience.
If you have questions regarding health and wellness, NIFS staff members are available for consultation and can provide information regarding workout planning, fitness testing, and nutrition consultation with a registered dietitian. As always, muscleheads rejoice and evolve!
This blog was written by Thomas Livengood, NIFS Health Fitness Instructor and Personal Trainer. To learn more about the NIFS bloggers, click here.