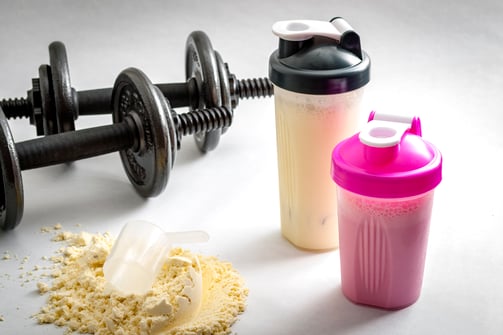 Thousands of sports nutrition supplements are touted to improve strength, endurance, and a variety of other athletic factors. But do they work and are they necessary? Below are some of the most common supplements advertised for athletes, as well as what they do, how well they work, and how much is safe to supplement. It's important to note that you should always consult your physician or a registered dietitian specializing in sports medicine before starting any new supplement.
Beta-alanine
During intense exercise, your muscles produce lactic acid, which can reduce muscular force and cause fatigue. Beta-alanine, an amino acid, produces carnosine, a molecule that can help reduce the buildup of lactic acid, which has shown to produce small performance improvements in sports that require high-intensity, intermittent effort over short periods, such as swimming, hockey, and football in some studies; however, its efficacy for endurance activities such as cycling and running isn't clear.
In healthy adults, beta-alanine supplementation is generally safe. The most common side effect reported is paresthesia, a tingling or burning sensation in the upper body, typically lasting 60–90 minutes after consumption. If you're interested in supplementing with beta-alanine supplements, the International Society of Sports Nutrition recommends taking 4 to 6 grams each day (1 to 2 grams at meals) for at least 4 weeks.
BCAAs
Leucine, isoleucine, and valine make up the branched-chain amino acids (BCAAs), which are used to provide energy to the body during exercise and might also stimulate protein synthesis in exercised muscle. Short-term studies have shown that BCAA supplementation might enhance overall muscle mass and strength during training, but it is unclear if BCAAs are more effective than any other high-quality protein supplement. While supplementation of up to 20 grams/day in divided doses is generally safe according to the NIH, it is not always necessary because most individuals can take in adequate amounts by consuming plenty of complete proteins that provide all of the essential amino acids together, like meat, poultry, fish, eggs, and dairy products.
Carnitine
Carnitine is a compound thought to help preserve muscle glycogen and spare the use of amino acids during exercise so that they are available for new protein synthesis. The research available to support the effectiveness of supplementation is limited, however, and available evidence is mixed. Additionally, healthy individuals do not need to consume carnitine from food or supplements because it is synthesized sufficiently by the body itself.
Creatine
Creatine is a compound produced naturally in the body (about 1 gram/day), and obtained nutritionally by consuming animal-based foods or supplements, that is stored in the muscles and used for energy. Most sports experts agree that supplementing with creatine is generally safe and can improve certain types of performance, specifically those that involve repeated short bursts of intense intermittent activity (like sprinting or weightlifting), but tend to have little value for endurance exercises, such as cycling, swimming, or long-distance running. For optimal results, experts recommend taking in at least 20 grams of creatine per day (4 doses of 5 grams) for between 5–7 days, before decreasing to a maintenance level of around 3 to 5 grams total daily. Creatine monohydrate is the form most commonly used, recommended, and studied.
The Bottom Line
The supplements discussed above are generally safe when used in the recommended amounts. Many of them are unnecessary for healthy people who consume the correct nutrients. Again, always consult your physician or a dietitian specializing in sports medicine before starting any new supplement.
This blog was written by Lindsey Recker, MS, Registered Dietitian. To learn more about the NIFS bloggers, click here.