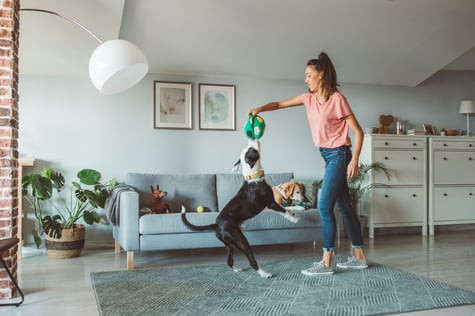 When you hear about fitness and wellness, one of the first things that comes to mind is getting a workout, usually at a gym, fitness center, or club. Some people can get exercise in other ways, such as outdoor activities and sports, while many others receive plenty of fitness at the workplace (think lumberjacks, steel workers, and factory workers). If none of these sounds like you or if you and you feel as though the fitness route is a tough road to travel, there is hope. There are things you do in your everyday life that give you an opportunity to burn calories.
Believe it or not, we all are burning calories all day, everyday. This is your metabolism, and without it you would not be alive. You burn calories when you are watching TV, riding in the car, and even sleeping (albeit a small amount). Many daily activities that you might not think about help you burn more calories throughout the day. Do you consider walking the dog, raking the yard, or cooking a meal as calorie-burning opportunities? Well, again, it's not equivalent to taking a HITT class or aerobics class, but you are going to burn more calories with increased activity.
How Many Calories Do These Activities Burn?
How many calories can you expect to burn with these day-to-day chores and tasks, you may wonder? In the sedentary state, people usually burn a couple calories per minute. If you were asleep, you could guess that you are burning fewer calories, and if you were sprinting up a hill, the calorie burn would increase. CalorieLab provides some of the following data that might come as a surprise as it pertains to tasks that you might deem as mundane.
Chores
Sweeping the floor: 39 calories/15 minutes
Doing the dishes: 22 calories/15 minutes
Cooking, with food prep: 26 calories/15 minutes
Scrubbing the floor: 48 calories/15 minutes
Playing with children or pets
Light play: 31 calories/15 minutes
Moderate play: 51 calories/15 minutes
Vigorous play: 68 calories/15 minutes
Get Motivated to Do More and Move More
Using this as a motivation, the work you do around your home is meaningful in many ways. Making sure that you have a nice, clean living environment ensures that you are taking proper steps to a healthy lifestyle, while pride and self-confidence get a boost as well. On top of all of this, your activity burns calories! Finding ways to burn the amount of calories you want might be a difficult task, whether you can't find time or don't like to do it, although keeping moving and staying motivated to do better at home is a great start. Good luck, and as always, muscleheads rejoice and evolve!
This blog was written by Thomas Livengood, NIFS Health Fitness Instructor and Personal Trainer. To learn more about the NIFS bloggers, click here.