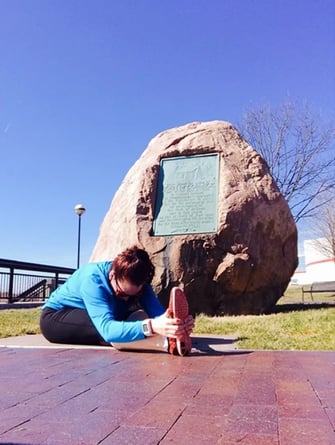 We know it is encouraged by fitness professionals, and included at the end of group exercise classes, but I want to ask you, personally: how many times after a workout do you actually take the time to cool down?
Many of us tend to finish a hard workout and walk right to the showers or straight to our cars to hurry and get home to the next item on our to-do list. Some of us may not notice much of a difference whether or not we incorporate a cool-down, such as athletes or active adults. However, according to the American College of Sports Medicine, "for the general population, many apparently healthy adults may have heart disease or other diagnosed conditions," making a cool-down a game-changer for not only everyday movement abilities, but safety.
Here are just a few reasons why you shouldn't skip out on a few minutes of recovery.
1. Prevent Dizziness
If you have ever felt lightheaded immediately after a hard workout, it could very well be caused from blood pooling. Strenuous exercise causes the blood vessels in your legs to expand, bringing more blood into the legs and feet. After physical activity, your heart is beating faster than normal, and your core body temperature is higher. When you abruptly stop exercising without taking time to cool down, your heart rate slows immediately, which can cause blood to pool into the lower body, causing blood to return at a slower rate to your heart, and your brain. This in turn can cause you to experience dizziness or fainting.
Many accidents in fitness centers actually tend to occur in the locker room from members making a beeline straight to the locker room, steam room, or sauna after a tough workout, without taking adequate time for their body to calm down.
2. Flexibility Is at Its Best
When you finish a tough workout, as stated before, your core body temperature is higher. This means that your muscles are warm and ready for more static stretching. Dynamic stretching is recommended at the beginning of a workout, so static stretching (in other words, taking a deep breath and holding a stretch in a particular position for 15 to 30 seconds at a time) is the next step you can take in maintaining and increasing elasticity in the muscles. This lengthening of the muscles leads to better range of motion and, in turn, improved quality of life for daily activities.
3. Injury Prevention
Tagging onto flexibility, you can prevent yourself from acquiring common injuries with some of this mobility work. One of the most common injuries is in the lower back, which can sometimes be triggered by tight hip flexors and hamstrings. By simply adding some mobility work after you finish, you can not only increase your range of motion, but also increase your ability to catch yourself when you fall or have to react quickly to an unstable surface.
4. Restoration for Your Body
Whether it be simply slowing down to a light jog or walk after some light sprints, or by moving into a savasana pose at the end of a yoga class, a cool-down can have physiological benefits on the body in terms of finality. When we slow down, we feel a "sense of normality" come back into our extremities, and the body begins to restore itself back to a steady state. In other words, it just feels nice!
So whatever you decide to do at the end of your workout, I encourage you to take a moment to think twice for next time. Whether it be adding five minutes of walking to bring the heart rate down, or an extra five minutes to stretch while your muscles are warm, it's important to note that there are no negative effects to the process. It can only help you in the long run!
This blog was written by Rebecca Newbrough, Lifestyle Program Coordinator and Health Fitness Instructor. To find out more about the NIFS bloggers, click here.