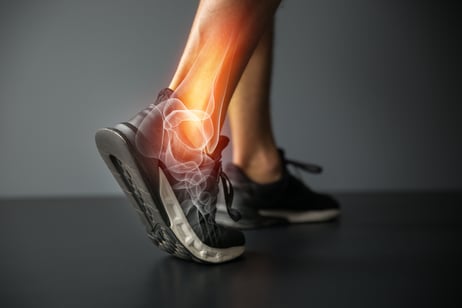 Whether you are a seasoned workout veteran or the new face in the gym, there's no denying that lower-leg pain can be a huge deterrent for exercise (and day-to-day life, for that matter). Some pains are dictated by the range of motion in the ankle. Due to several factors including previous injuries and wear and tear, physiological problems from the various shoes people wear, and the types of exercises people punish their bodies with, we see individuals every day who have a hard time performing some of the more basic exercises such as squats and deadlifting.
To hopefully achieve a better, safer exercise with less pain, it's helpful to incorporate ankle mobility warmups into your routine and to be conscious of testing and retesting range of motion to monitor your progress. Here I cover some tests that are useful for checking your ankle mobility and some warmup stretches to get you heading in the right direction.
Testing Ankle Mobility
For testing and retesting your ankle mobility, NIFS uses a test that is included in the Fundamental Capacity Screen simply referred to as the Ankle Clearing Screen. What we want to see is whether your ankle mobility is capable and safe to perform a specific movement pattern. If not, we need to strategize ways to improve ROM and decrease chances for injury.
Dr. John Rusin describes a test you can do at home in which you stand, facing a wall, with your foot four inches away from the edge of the wall. While keeping your heel on the ground, try to touch your knee to the wall. It's not as easy as it might seem, but being able to touch your knee to the wall is a sign of a healthy, mobile ankle. If you can't do it and you want to improve, we have some work to do!
Stretches for Ankle Mobility
There are many stretches for ankle mobility that can help boost your ability. Starting with a simple ankle stretch at the wall, begin by pressing against the wall, keeping your heels flat on the floor. The more your body gets used to this movement, the farther you will be able to move your feet back (as long as your feet are flat on the ground). Holding for several seconds on each side, try to do this stretch daily or as often as you like to help get the ball rolling.
A similar way to stretch the ankle would be a self-stretch from a half-kneeling position. This is a simple yet effective movement that improves your flexibility over time. While keeping your foot flat, rock forward until you feel a stretch, then return to the starting position. Move your foot farther away from your body or closer to your body for a couple nice change-ups to the routine.
Lastly, if you were interested only in the exercise aspect and can't find time to stretch, you can still do a squat pattern. The TRX Deep Squat is a good beginner squat that will help reestablish ankle mobility and train your body to work through the entire squat range of motion. Even sitting in the squat position feels good and helps the body get used to the pattern. Without weight to affect the body positioning, you will find this to be lower impact and a great jump off into doing traditional squats with great form.
Get Help from NIFS
Ankle mobility is where everything in the whole kinetic chain starts. If you have poor ankle mobility, chances are you aren't going to be able to do the squats or hip hinge patterns effectively, which our bodies need to get stronger. This ripple effect passes all the way to the upper half of the body.
If you want more information or would like help improving your ankle mobility, please reach out to NIFS and one of our Health Fitness Specialists will help guide you in the right direction. Fundamental Capacity Screens are complimentary. Check with a NIFS staff member to see whether this type of testing is right for you.
As always, muscleheads evolve and rejoice!
This blog was written by Thomas Livengood, NIFS Health Fitness Instructor and Personal Trainer. To read more about the other NIFS bloggers, click here.