The Go Girl Triathlon at Eagle Creek Park is now in its 14th year. NIFS' Go Girl Tri-training Program is the city's longest-running training program for that race. Will you join us for this year's training? Here are some good reasons for you to tri.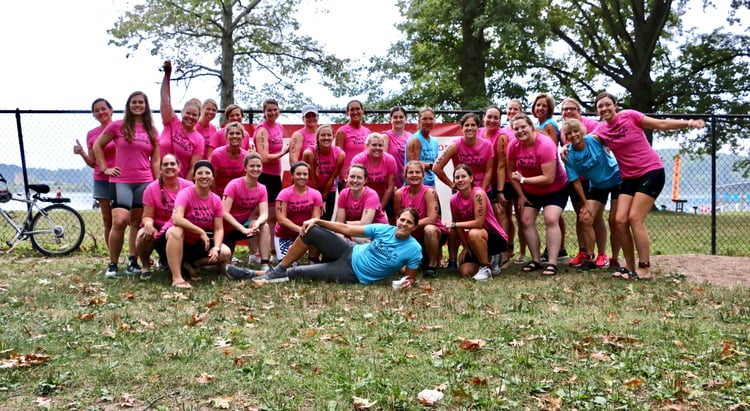 Running, Biking, and Swimming Coaches
The coaches for our program have experience in each discipline of the race:
Run coaches train you to be faster and injury-resilient.
Bike coaches teach the techniques to ride fast and strong.
Swim coaches build confidence and determination to tackle any body of water.
A Different Discipline Each Week
The training sessions are broken down into a specific discipline each week. Some weeks we will be doing "bricks," which are two disciplines back to back. These are great for building fitness and confidence going into race day. The work is challenging, which pushes your fitness to another level.
More Open-water Swimming Practice
There are extra open-water swim opportunities on the weekends and occasional weekdays. These prepare you for the challenge of the open water, which is often difficult to get in the pool. The dark and irregular water is a different test than the clear pool with a line at the bottom. The sighting drills in the open water make the race day swim easier to manage for a nervous race-day mind.
More Hills
The training at Eagle Creek will prepare you for all the race-day hills and undulations. You will be changing gears and cruising by your fellow racers because you will know every section of the course in the park, including in the demanding first hill you will climb as you get on your bike. You will have traversed this hill many times in training. On race day, the final run-up will be a piece of cake.
Help with Transitions
Did you ever consider the fourth discipline: transitions? We will hammer home many fine details to make that part of your race a strength, and you can chuckle at your fellow racers who can't find the rack where their bike was placed.
The Hidden Details
The little details of each discipline may be the most valuable piece to our training program. Did you know you will have to pin your race number on your brand-new tri top? Well, in our program we will show you how a race belt keeps you from putting holes in your nice top.
Tri Training Starts June 28
All in all, it's a great group of ladies who will sweat, work, and cheer each other on during the race day—from the early-morning jitters to the finish, with medals proudly displayed around your neck. June 28 is our start, mark your calendar and get registered today!
This blog was written by Kris Simpson, BS, ACSM-PT, HFS, personal trainer and USTAat NIFS. To read more about Kris and the NIFS bloggers, click here.