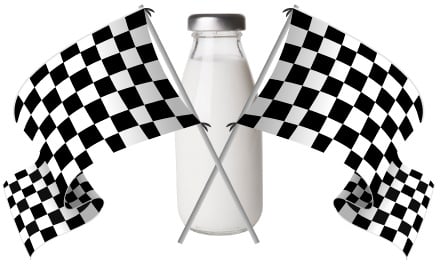 With the Indianapolis 500 approaching, a lot of traditions and stories are being shared. As we head into the month of May and all of the events leading up to race day, the one that as a dietitian I am most intrigued about is, "Why does the winner drink milk?"
I love a glass of cold milk: cow's milk, soy milk, chocolate milk, almond milk, cashew milk…it doesn't matter to me. But after a hot and sweaty trip around the oval 200 times, I'm not sure that would be my drink of choice.
The History of the Indianapolis 500 Milk Legend
Here is some history on the interesting choice of beverage for the winner of "The Greatest Spectacle in Racing" year after year. The Indianapolis Motor Speedway writes this:
Three-time Indianapolis 500 winner Louis Meyer regularly drank buttermilk to refresh himself on a hot day and happened to drink some in Victory Lane as a matter of habit after winning the 1936 race. An executive with what was then the Milk Foundation was so elated when he saw the moment captured in a photograph in the sports section of his newspaper the following morning that he vowed to make sure it would be repeated in coming years. There was a period between 1947-55 when milk was apparently no longer offered, but the practice was revived in 1956 and has been a tradition ever since.
It is also interesting to note that the American Dairy Council pays a sponsorship of $10,000 to the winner of the race if they sip milk after their victory. Two drivers skipped the milk in recent years. In 1993 Emerson Fittipaldi opted for orange juice, and in 1981 Bobby Unser also refused.
Milk for Workout Recovery
We have known for years that chocolate milk is the gold standard in recovery after strength training, so why not grab a glass of cold calcium-packed milk after a grueling workout? Even though it is seen as a strange tradition, it is the perfect recovery fuel after hours spent in a hot car.
The benefit of the chocolate (or any flavor) milk is the additional sugar to help replace what was just burned during the workout; however, even if it is not flavored, the carbohydrates in white milk are beneficial. Chocolate milk does have the perfect ratio of carbohydrate to protein, so if that is available it would be the best choice. Keep in mind that non-dairy milk such as almond, cashew, and hemp do not have the protein component that is key for recovery.
The good news is that milk isn't just for winners of the Indy 500. Anyone can benefit from this delicious beverage after a workout. Grab your favorite kind soon!
This blog was written by Angie Scheetz, RD, Wellness Coordinator. To find out more about the NIFS bloggers, click here.