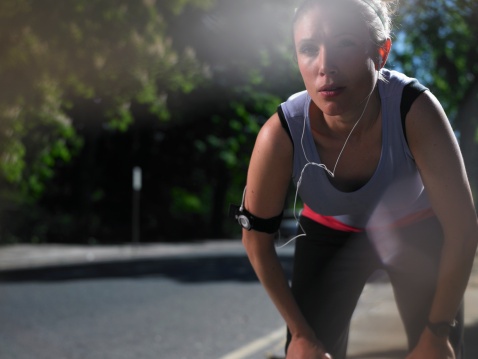 Overtraining is something that is commonly experienced in the fitness world yet frequently not recognized. What exactly is overtraining? It happens when the volume or intensity of exercise goes beyond your capacity to recover. Progress is no longer seen, and as time goes on, individuals who are overtraining tend to lose strength and become weaker. This is something that by definition everyone would want to avoid, but it's easier said than done!
A lot of exercise happens to be a mindset. We've all been there: "I'll just go for a run since I ate a whole pizza last night," or "I'll grab a second workout today so I can pig out on dinner." However, maybe these things are pushing you over the edge into the overtraining zone, a place that you really don't want to be.
Let's take a look at five signs that you could be overtraining, and then five potential solutions.
Five Signs of Overtraining
Repeated injury: Do you have an injury that heals and then comes right back again? One sign of potential overtraining is having repeated injuries pop up. Because you are not allowing proper recovery between training sessions, the injury will never fully heal and keep coming back.
Exhaustion: Do you feel like you just can't quite seem to get enough rest between training sessions? When an individual is overtraining, the work capacity being done is greater than the recovery time allotted. If you feel your body is not quite ready for the next workout, consider taking a rest.
Lack of progression: Are you stuck in your workouts and not seeing any gains even with the greater work capacity? If you are overtraining, you will begin to see a lack of progression in strength and training gains. The workout plateau could be caused by other factors, but consider taking a look at your training if you are lacking in progression.
Nagging injury: Do you have a nagging injury that won't heal? If you have an injury that you cannot recover from and it refuses to go away, you might be training too much. Taking a break will allow your body to recover from those nagging injuries.
Persistent muscle soreness: Are you constantly sore after workouts and never feel "normal"? A classic sign of overtraining is constant muscle soreness that will not go away. The lactic acid buildup in your body doesn't have time to flush out of the muscles when the training regimen is too high.
If you are struggling with any of the overtraining signs, consider one of the following solutions.
Five Solutions for Overtraining
Take a break. This tends to be the hardest one because of the challenging mindset, but you will do your body a huge favor if you take some time off. Maybe it's a week or two weeks, but allow yourself enough time off to fully recover and see the gains that come from it.
Reduce volume. One way to break overtraining issues is to reduce the amount that you are working out. You can reduce length or frequency of workouts during the week. Either way, cut down on the volume and see how you feel.
Rethink your training plan. You may need to rethink the training plan that you currently have. Maybe you need to change up days or space workouts apart from what you currently have going. Take a look and make adjustments where necessary.
Try a massage. Sometimes a deep-tissue massage will help to push out some buildup within your muscles. Take a day and schedule a massage in place of your training session and see if that helps.
Reevaluate your goals. While no one wants to reduce a goal they originally set, sometimes if your body cannot take the load you are putting it under, you may need to make a change. This doesn't mean that you need to reduce your goals; maybe just making small modifications would be acceptable.
This blog was written by Amanda Bireline, Fitness Center Manager. To read more about the NIFS bloggers, click here.