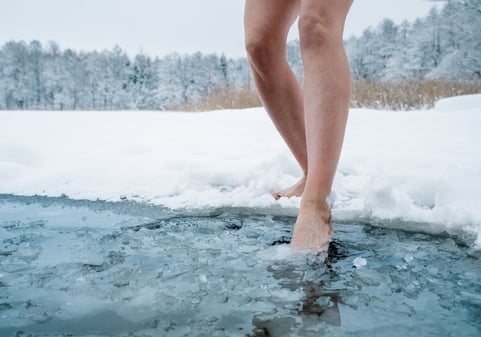 So, if you're like me and have been scrolling through the various social media outlets out there, you might have been seeing an uptick in a very niche fitness trend. Lately it's all I see on TikTok, and I will admit it is intriguing watching these people on social media freeze their butts off in a cold tub of water. Often, the results are hilarious as people realize how unbearable sitting in a tub full of ice water really is. I mean look at this video and tell me whether you think this looks enjoyable. I think not, but watching these poor people suffer did have the gears turning in my mind about whether there is anything that can come out of subjecting your body to frigid temperatures, and maybe I should be partaking more regularly in these freezing experiences.
Cold Water Therapy Through the Ages
The experience of taking plunges into cold or even freezing water can be traced all the way back to nearly six millennia ago. Ice baths and cold-water immersion have been used for recovery purposes for centuries. Even as far back as 3500 B.C., the ancient Egyptian medical textbook Edwin Smith Papyrus (named for Edwin Smith, who purchased it in 1862), referring to using freezing water as a therapeutic modality. The ancient Greek physician Hippocrates in the 4th century B.C. wrote about the benefits of immersion in his work On Airs, Waters, and Places.
Looking more recently, in the 19th century, researchers looked at immersion to alleviate various ailments. Scottish physician William Cullen began prescribing cold-water therapy for patients with a wide range of symptoms including fever, inflammation, depression, and even insomnia. In the 1960s, D.H. Clark investigated cold-water immersion for post-exercise benefits. Throughout millennia and centuries, there have been numerous accounts of the benefits of immersion, both medicinal and therapeutic. But as with any modality, there is a delicate balance between the risks and the benefits.
What Are the Benefits?
Over time, a lot of work and studying has been done to investigate the benefits of cold plunges and cold-water immersion and a possible therapy for many different symptoms. There are a couple of things to consider when doing ice baths. To start, benefits of cold plunges have been studied thoroughly throughout the past couple centuries, and it has been found to reduce inflammation of sore and aching muscles, help sleep, and limit inflammatory response in the body. Anecdotally, many recreational and professional athletes swear by ice baths to help their bodies and boost their energy levels.
Know the Risks
But there are some key risks to keep in mind before plunging into freezing cold water. The biggest risk is the shock associated with plunging into cold water and the sensation that it "might take your breath away," but a good way to combat this is focusing on breathing. Also, there is a risk for those with cardiovascular diseases as the cold water will constrict the blood vessels and create a risk for reduced blood flow. All these risks can be serious and should be discussed with a physician prior to cold-water immersion.
Something to Consider
With the introduction of cold temperatures to rehabilitate athletes and non-athletes, the benefits have proven to be significant and is something even the recreational athlete should consider.
This blog was written by Ricky Rocha, Health Fitness Specialist. To learn more about the NIFS bloggers, click here.