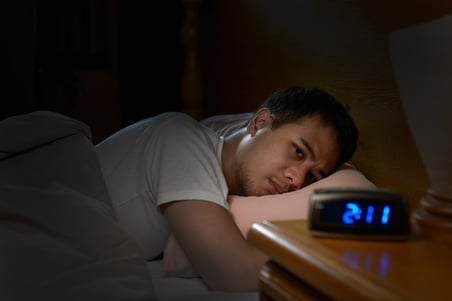 How often is it that you hear someone say, "Man, that was a great night's sleep!" or "I slept like a baby!"? Not as often as we would like to hear, I would say! Being tired and feeling sluggish seems to be the new normal. According to the National Sleep Foundation, most Americans are sleep-deprived. Not getting enough sleep might be causing a lot more trouble than just that sleepy feeling. In fact, it could be seriously harming your health.
Why Aren't We Sleeping?
Centuries ago, it was common for people to sleep anywhere from 8 to 9 hours each night. But now only about 25 percent of Americans get 8 or more hours of sleep. There are various reasons why we aren't sleeping. We live in a society that is constantly on the go, 24/7. From fitness centers being open 24 hours to pharmacies and department stores being open later, around-the-clock convenience is there.
So many activities go on during a 24-hour period. From working long hours, transporting kids to their activities, trying to make time for friends, not to mention enjoying a little bit of entertainment—oh, and can't forget about making time for our health and fitness goals. Sleep is typically the first thing to disappear from our lives, so it becomes second nature to not get enough of it.
Here's the thing though: even when we do end up finally getting into bed, it doesn't exactly mean we go right to sleep. The National Sleep Foundation reports that 60 parent of Americans have sleep problems. You heard it right—more than half of us struggle to sleep, and we are starting to pay for it.
The Dangers of Sleep Deprivation
"The foundations of good health are good diet, good exercise, and good sleep, but two out of the three doesn't get you there." —Dr. Anne Calhoun, neurology professor, University of North Carolina (source: CBC)
The three components that are needed to make up a healthy lifestyle are exercise, eating healthy, and sleep. Exercise and nutrition aren't enough to make up for the danger that sleep deprivation poses to your health, however. Some studies indicate that adults can get as little as 7 hours of sleep a night and that can be sufficient. But shooting more for 8 hours would make a world of difference. And getting less than 7 can cause some serious consequences:
Risk of Cardiovascular Disease
If you get less than 6 hours of sleep each night and have disrupted sleep, you have a 48 percent greater risk of developing or dying from heart disease and a 15 percent greater risk of developing or dying from a stroke. Not to mention, lack of sleep can cause high blood pressure, blocked arteries, stroke, kidney disease, and dementia.
Obesity
Sleep shortage is directly linked to obesity. When you don't get enough sleep, two very powerful hormones that control hunger are disrupted, resulting in you feeling hungrier and having fewer sensations of fullness.
Not getting enough will also cause you to feel more stressed, which boosts the production of the hormone cortisol in your body. The cortisol hormone causes you to crave high-carbohydrate foods such as chips and brownies, which then turn into the fat around your belly, which is the most dangerous place to store fat.
Another reason sleep is important is that the risk of pre-diabetes goes up. When trying to make it on less than 6 hours of sleep per night, your glucose tolerance becomes impaired.
Immune System Becomes Depleted
Ever wonder how two people can be exposed to the same germs, but only one of them gets sick? The answer: their immune systems. When you have a well-functioning immune system, you are capable of warding off many illnesses. But when something is causing your immune system to not function the right way, like sleep deprivation, you become vulnerable to infections, bacteria, viruses, and even some autoimmune diseases such as arthritis and asthma.
Less sleep = more stress and a compromised immune system
Low Exercise Performance
As if the threat of heart disease, obesity, and immune suppression isn't enough to deal with, lack of sleep can negatively impact your fitness regimen as well. A recent study in Lipids in Health and Disease came to the conclusion that exercise can help increase insulin sensitivity and sleep quality while decreasing body fat.
***
At the end of the day, lack of sleep does far more harm to your health than you might realize. Although it might take some rearranging of your schedule, putting sleep first means that you don't have to worry about making time for illness—because, let's be honest, who has time to get sick?
This blog was written by Ashley Duncan, Weight Loss Coordinator. To find out more about the NIFS bloggers, click here.