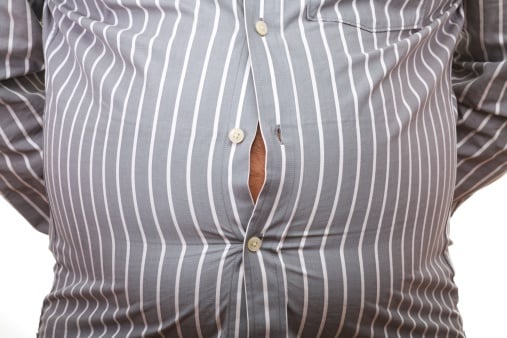 Unfortunately many people are not fully aware of the danger of carrying excess body fat around their waistlines. Most of us know that in order to get those beach-body abs we all long for, we have to first lose the excess abdominal fat. This is almost everybody's only motivation for trying to lose belly fat. However, there are deeper and more serious disease prevention reasons to address excess fat in this area.
Two Types of Body Fat
Humans carry two different types of fat in their bodies:
Subcutaneous fat: The noticeable layer of fat that is just beneath the skin (the fat you need to lose to see your abs).
Visceral fat: Fat that is found deeper in the abdominal area under the muscles and surrounding the organs, such as liver, pancreas, and intestines.
The majority of people are mainly concerned with losing subcutaneous fat since this is the fat you will need to lose in order to let your abs shine through. If you are carrying excess visceral fat, however, there are more reasons to be concerned.
The Health Risks
Because visceral fat resides deep in the abdomen, it can be a huge health risk. Having excess visceral fat can lead to increased risk of the following health conditions:
Type 2 diabetes

Heart disease

Breast cancer

High blood pressure

Stroke

High cholesterol
Although genetics do play a role in the amount of visceral fat a person carries, your diet and physical activity level are also major contributors. A sub-par diet and exercise routine puts you at increased risk of carrying excess visceral fat.
Visceral fat can go completely unnoticed because you cannot see it with the naked eye. One way researchers detect visceral fat is through an MRI, which takes a picture of the inside of the abdominal area.
Tips for Losing Fat
Here are some simple tips to help you lose and prevent storing visceral and subcutaneous fat:
Storing fat can be a little more dangerous than you might have thought. When you actually take into consideration the harm you may be doing to your body, hopefully you will be more motivated to shed those extra pounds!
Ready to take the first step to better health and fitness? Schedule a free fitness assessment with us today!
This blog was written by Darius Felix, Health Fitness Specialist at NIFS. To find out more about the NIFS bloggers, click here.