Whether or not you exercise, hip mobility plays a factor in your everyday life. Within the exercise realm, good hip mobility can be the difference between being "in the game" and just watching from the sidelines. In day-to-day life, hip mobility factors into nearly all movements, including climbing stairs, sitting and standing, and walking. If you find yourself wondering whether you could benefit from improved hip mobility, the answer is a resounding "Yes"! While understanding the importance of hip mobility is key, designing a routine that is appropriate for your needs and goals takes precedence.
Benefits of Improved Hip Mobility
If I were to pinpoint a few benefits of improved hip mobility, I would first look at the basic elements and emphasize the benefits of improved balance. Although you do not stand on one foot on a regular basis, you do, however, get in and out of your car, which requires a degree of balance. As hip mobility deteriorates, you may find it harder and harder to get out of your car.
A second area to look at is hip-strength imbalances in the body. This can become a more advanced quickly, so lack of hip mobility can lead to an abnormal strain on other muscle groups. An example of this is that an individual who sits all day may develop weak hip muscles (like the psoas, iliacus, and rectus femoris), which in turn could lead to the hamstring getting overworked.
Lastly better hip mobility can lead to fewer injuries and decreased overall pain due to hip tightness. Those who are running a marathon might discover tightness in their hips that could be remedied through a well-thought-out hip-mobility warmup.
Improving Your Hip-Mobility Warmups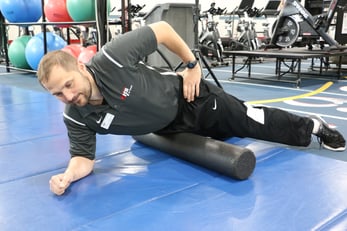 Most workout formulas include a warmup process. If hip mobility is a focus, your workout would benefit from a few additions to the routine. Foam rolling, which has been around for a while, is a great way to get blood circulating to the muscles and decrease soreness (if you worked them out prior). Spending a few minutes to roll out the trigger spots (areas of higher tenderness) will help you feel better, and you will be able to exercise on a more consistent basis.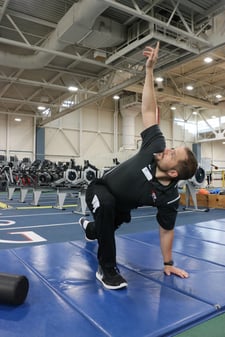 Second, I would suggest a dynamic movement stretch (rather than traditional static stretching) to help not only stretch the muscle, but also warm up the body for more movement. "The World's Greatest Stretch" (yes, that's really its name) takes the exerciser into a lunge position, rotating and opening up the torso to the ceiling. Why is this called the "World's Greatest Stretch?" For starters, you are able to stretch not only your hip flexors, but also your hamstrings and torso. As you do the stretch, both sides back to back, you notice that the stretch allows you to flow, dynamically, which is a great way to get your body ready for movement.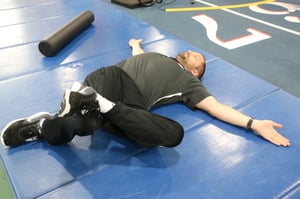 Finally, another great stretch to do is simply called a Hip Internal Rotation Stretch. While lying on your back, cross one leg over the other, allowing the hips to lean to one side and getting a decent stretch.
Address Your Hip Problems Now
Some hip problems are not from a lack of trying. Physiologically, there are many reasons your hips might hurt. If you feel as though you are having excessive pain in your hips, you might need to consult with someone who can help you. Overall balance issues, unnecessary pain, and muscle imbalances can all become bigger, life-altering issues down the road, so take care of them before they become bigger issues.
We want you to feel good! Come see a NIFS staff member at the track desk to schedule a complimentary FMS Screen to determine ways we can best help you with your exercises. Remember to warm up properly and stretch when appropriate, strengthen your weaknesses to see real improvement, and consult a professional to help you develop your plan.
This blog was written by Thomas Livengood, NIFS Health Fitness Instructor and Personal Trainer. To read more about the other NIFS bloggers, click here.