Starting a new DEKA training program requires careful planning and commitment. DEKA is a fitness competition that requires functional fitness to complete 10 Zones of activity. Here's a checklist to help you prepare for and embark on your DEKA training journey.
Set Clear Goals:

Define your specific DEKA goals, such as achieving a certain time, completing all the obstacles, or improving your overall fitness.

Fitness Assessment:

Evaluate your current fitness level by assessing your endurance, strength, and agility. This will help you gauge your starting point. Speak with one our Certified Personal Trainers to schedule your fitness assessment.

Join Our Facebook Group:

Be sure to join

NIFS DEKA Facebook group

and be a part of our community of tips, tricks, and encouragement.

Hydration & Nutrition:

Stay well-hydrated, especially during intense training sessions.

Be sure to follow a well-balanced diet and look out for our nutritional tips in weekly newsletters.

Gear and Equipment:

Ensure you have the appropriate gear for DEKA, such as suitable running shoes, workout attire, and any necessary accessories for obstacle courses.

Rest and Recovery:

Schedule rest days and prioritize recovery methods like stretching, foam rolling, and adequate sleep.

Track Progress:

Keep a training journal to record your workouts, times, and any obstacles you encounter.

Take progress photos! DO IT! It's a wonderful way to track our progress. The scale does not always reflect our fitness gains.

Have Fun!!

Remember to smile! Enjoy your journey – the highs and lows. Every step you take in the journey is one for the better

😊



DEKA training can be demanding, so it's essential to approach it with dedication, patience, and a commitment to improving gradually. As you work through our 6-week program, stay focused on your goals, maintain a positive mindset, and enjoy the journey of becoming a stronger and more capable athlete.
Ready to get started? Get registered for our 6-week DEKA training program! Training begins September 25, 2023. Prepare for NIFS first DEKA Strong event on November 11th!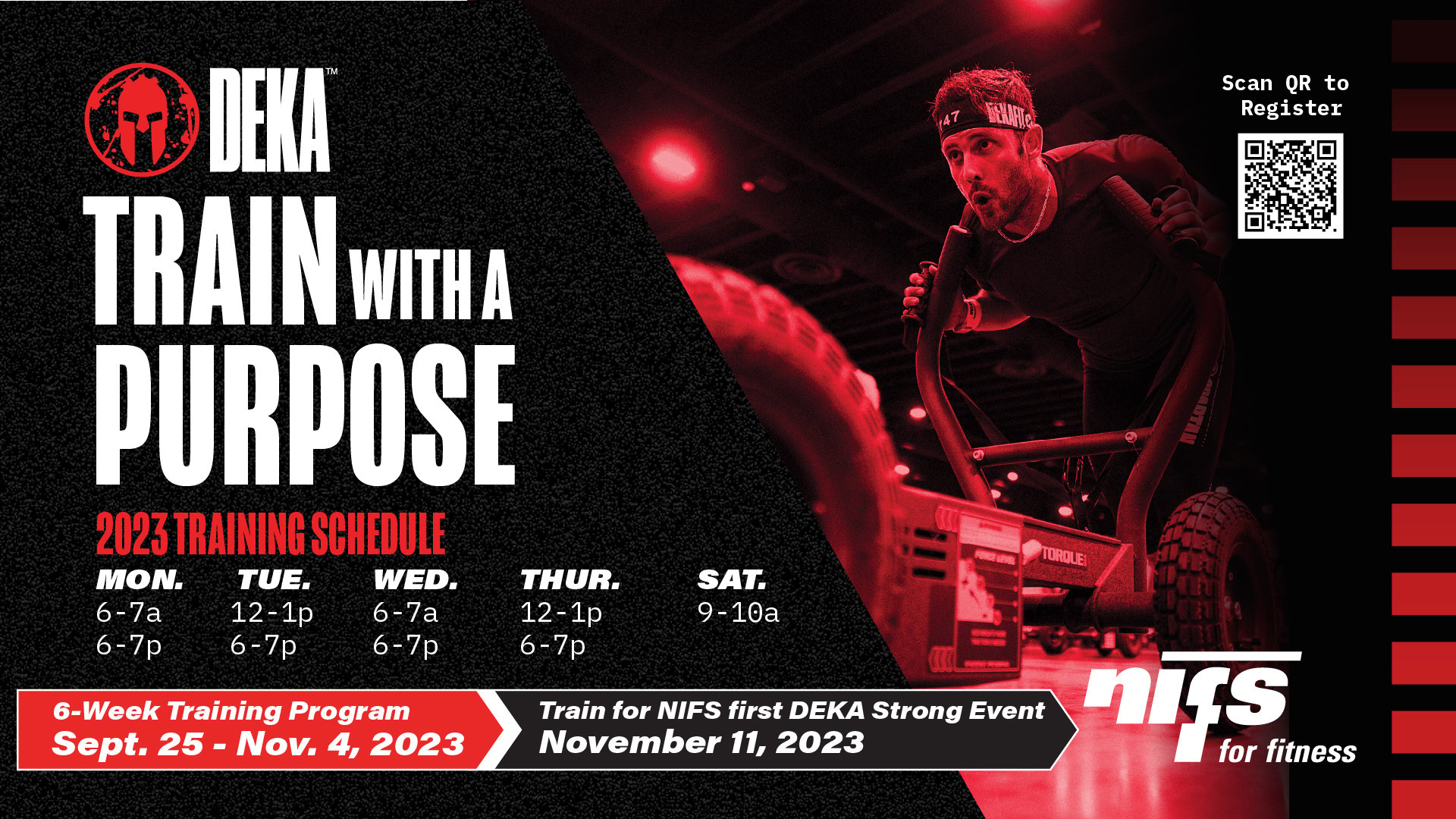 This blog was written by Tim Howard, NIFS Operations Manager, Ironman Triathlete, and hot dog connoisseur. To learn more about the NIFS bloggers, click here.