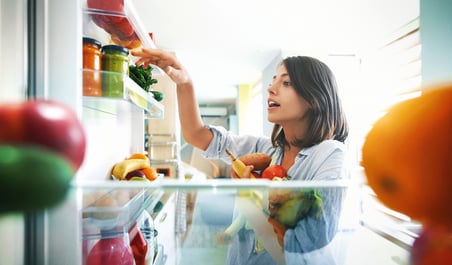 Every March, the American Academy of Nutrition and Dietetics celebrates National Nutrition Month. This campaign is intended to put the attention on the importance of making informed food choices and developing sound eating and physical activity habits. If you started out the year with resolutions or a goal to be healthier but have already fallen back into old habits, take a look at these 10 messages and use National Nutrition Month as an excuse to get back on track.
Discover the benefits of a healthy eating style. Take notes on how you feel when you eat a balanced meal. Do you have more energy and are not as sluggish? Did you enjoy the fresh flavors from foods that aren't processed or packaged?
Choose foods and drinks that are good for your health. Each week, challenge yourself at the grocery store to try a new-to-you food or drink that is good for you. This will help expand your options when it comes to making healthy meals and snacks.
Include a variety of healthful foods from all of the food groups on a regular basis. Aim for three food groups at every meal and two food groups at snacks. This will help increase the balance and variety of the foods you are eating.
Select healthier options when eating away from home. Plan ahead. Check out the menu and see what you want to order before you arrive. Then try to balance your meal with only one higher-fat item and healthier sides, entrees, and beverages.
Be mindful of portion sizes. Eat and drink the amount that's right for you, as MyPlate encourages us to do. Use your hand to guide your portion sizes! Your fist is the size of a serving of fruits, veggies, and grains. Your palm is the size of a serving of meat. Your thumb is the size of a serving of oil.
Keep it simple. Eating right doesn't have to be complicated. Look at your plate and half of it should be filled with fruits and veggies, one-fourth with whole grains, and one-fourth with lean protein. Sprinkle in some healthy fat and dairy, too!
Make food safety part of your everyday routine. Wash your hands and your produce. Don't cross-contaminate your raw meat, and cook foods to their proper temperatures to avoid any food safety issues.
Help reduce food waste by considering the foods you have on hand before buying more at the store. Make a meal plan based on what foods you have and then create a shopping list to fill in the holes. This will help reduce waste and save you money on your food bill, too!
Find activities that you enjoy and be physically active most days of the week. What did you like to do as a kid? Ride your bike? Dance? It never felt like exercise then, so find something you enjoy doing and it will be something you will look forward to doing daily.
Consult the nutrition experts. Registered Dietitian nutritionists can provide sound, easy-to-follow, personalized nutrition advice to meet your lifestyle, preferences, and health-related needs. NIFS has Registered Dietitians that are here to help! Check out our website for more information!
This blog was written by Angie Mitchell, RD, Wellness Coordinator. To find out more about the NIFS bloggers, click here.