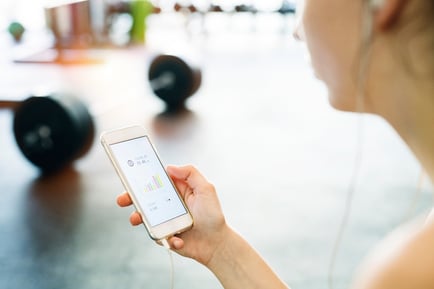 Technology can be incredibly good and bad for your health. It can be said that we, as a society, are much lazier now than the previous generations due to modern conveniences. These modern conveniences, some of which we might not be able to live without, allow us to circumvent exercise and work.
Knowing that physical fitness and technology are not always on the same page, there are some enlightened and engaging computer programs, phone apps, and personal devices that enable you to better monitor your health and track your progress. Here I will look a little more closely at these products are they pertain to your personal fitness.
Personal Health Monitoring
Taking a step beyond tracking your reps and sets, being able to monitor everything from calories in/out to diabetes management can be easier with software and activity tracking devices. For those with chronic illnesses such as diabetes, uploaded data can provide information to doctors to better serve you and adjust the medications you require to live. Future technology might make it possible to adjust medication doses remotely, without having to see a doctor, or help in an emergency.
Weight Management and Social Media
If used as a weight-management tool, tracking nutrition with a cell phone (whether you are entering the calories manually or scanning barcodes) is much faster and easier than ever. Writing down every single item you eat can be a challenging task, so this tool gives you more time to spend doing other things you love doing (hint: exercise). Many social apps are available that help link you to other likeminded individuals; so, finding a workout buddy or getting ideas for your next WOD (workout of the day) is at your fingertips.
The NIFS App
We are proud to offer a NIFS app that enables you to manage your own fitness center experience. App users can sign in with their cell phone (so there's one less thing to have to carry on your keychain). This can be nice on days you are running late or are trying to maximize your time at the gym.
Secondly, you can use the app as a tool to set personal goals and track progress. Recording your workout on your favorite cardio equipment is as easy as taking a photograph of the machine and submitting it. The rest of the work is on us!
Thirdly, app users have access to the NIFS Group Fitness Calendar. The calendar can be useful when trying to decide between classes because there are descriptions of each class on the site. Finally, there are monthly challenges posted on the app that give you incentives to come and exercise. The app is free to download and is geared toward enhancing the member experience.
***
Technology definitely gets a bad reputation when it comes to fitness, but there are many ways it can be helpful. If you are new to apps or fitness tools such as these, please ask a staff member to help you access this useful asset. As technology advances, we can only hope that there are positive links toward a healthier and more active society. Take a new approach to fitness; download the NIFS app today! See what we can do for you!
This blog was written by Thomas Livengood, Health Fitness Instructor and Personal Trainer. To read more about the NIFS bloggers, click here.