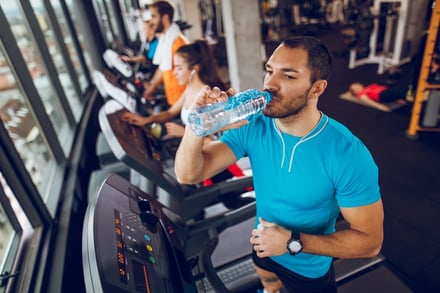 One thing that I'm sure you have heard is the importance of drinking enough fluids. So if some is good for you, shouldn't it make sense that more is better?
I have heard many tales of people chugging bottles of water right when they wake up to get it out of the way. Or carrying around a gallon jug of water to keep track of the amount they are getting. It's nice to have a goal in mind of how many ounces to drink each day; unfortunately that number is different for everyone. Since individuals have different sweat rates, workout routines, diets, height, and weight, each person requires a different fluid goal. Read below to see how to know whether you are getting enough water for your body, and some of the dangers of drinking too much.
Check Your Hydration
The best way to know whether you are getting the proper amount of water or fluid per day is to check the color of your urine:
If it's pale yellow, that's a good sign.
If it's dark yellow, you need to drink up.
If it's clear, you are overhydrated.
Water Intake Guidelines
Thirst should always be your guide to staying hydrated. If you must count ounces, the Institute of Medicine recommends 78–100 ounces of water per day, or 9–13 cups. Obviously, this can change based on the individual, the activity, and the weather. Something else to keep in mind is that a lot of the foods that you eat are high in water content and can add to your hydration status. Fruits and vegetables are loaded with water. Milk, coffee, tea, and juices also count.
What Happens When You Drink Too Much Water?
Overhydration can lead to water intoxication, which is when the body's electrolytes such as salt and potassium become diluted. Hyponatremia is when the body's sodium levels get too low. This is the main concern of overhydration. Athletes are the population most at risk of being overhydrated, especially those who participate in long or intense workouts or endurance events.
The good news is that this is extremely rare and you would need to drink many gallons of water for this to happen. The amount you drink at one time could be more of an issue. Your kidneys can process around half a liter per hour. So chugging liters and liters at a time is when the danger could occur. Symptoms of hyponatremia are similar to heatstroke and exhaustion. A headache, exhaustion, feeling lethargic, vomiting, diarrhea, and nausea are all warning signs. If you don't get help quickly, it can be serious and even deadly.
The best way to prevent hyponatremia is to make sure you aren't drinking more than you sweat out. Use thirst and the color of urine as a guide. And for those doing endurance events, be sure to have sports drinks that have sodium and other electrolytes and not just plain water.
This blog was written by Angie Mitchell, RD, Wellness Coordinator. To find out more about the NIFS bloggers, click here.