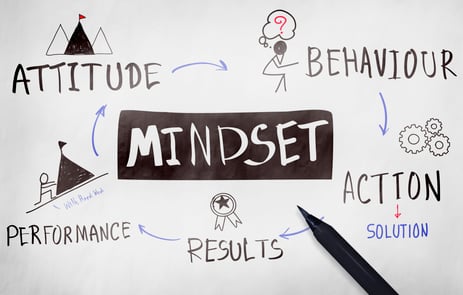 During these unprecedented times of self- and mandated quarantines and stay-at-home orders, it can be easy to slip into a negative mindset accompanied by fear of the unknown and worry about how you are going to get through this. Self-quarantine does not have to be void of self-improvement. Social media is drenched with ideas and strategies to keep up your physical fitness at home with a million bodyweight workouts and DIY fitness equipment ideas. I'm partial to the elite content that the NIFS pros are providing daily, obviously, but there is no shortage of methods out there to keep moving at home. But what about emotional and mental fitness, and how to continue the work on YOU that makes us strong individuals inside and out?
A motto that I live by daily is to focus on how you choose to react to an unavoidable situation and not let the situation itself dictate your response. Many things are out of our control, but we can control the way we react. I'm sure you've seen that poster sometime in your life, and I think it is the only way you can actually control a situation you find yourself in. This fight against COVID-19 is no different; the situation itself is out of our control, but the way we choose to react and manage the situation is.
Strategies for Mindset Pivot
So how can we PIVOT our mindset and continue our self-growth through this crazy situation? I have a few strategies that you can put in place right away, starting with the mindset PIVOT.
Be Grateful
List and define the things that you are grateful for right now. Obviously, this is not an ideal situation we are all going through, but what are the things that you have or that are going on in your life that you are so thankful for? Here are a few of mine:
I'm healthy.

My loved ones are healthy.

I'm still able to remain employed and help others.

I have a safe and comfortable home.

I have ample food.
I'll bet as soon as you put pen to paper and write out those things you are grateful for, you will begin to pivot to a more positive mindset.
Laugh
Find ways to laugh daily. Maybe it's listening to your favorite comedian or catching a comedy on Netflix. Laughter can change a mindset pretty quickly and will focus attention away from the troubling news we face these days.
Connect
Spend time with your family that is with you and reach out to those who are not. You have some time now to really connect with the people you care about the most. Play a game with the kids, call someone you haven't talked to in a while, send an email, or Skype. There are so many ways you can connect with others. Stay connected; you have the time now.
Move
There are a number of ways you can remain active at home. As I stated before, there is no shortage of drills and workouts you can do with little and no equipment online and on social media. Follow your NIFS Pros on IG and Facebook and be sure to check out our blogs for a ton of fitness strategies you can do at home:
Be sure to PLAY as well, an aspect of fitness that often gets overlooked. Play and smile!
Strategies for Self-Growth
Even though you may be a homebody these days, it doesn't mean you have to stop the growth of who you are as an individual, professional, parent, sibling, and other identities that you carry with you. The list of things you can do to grow and not slow down during this time is long. Here are just a few to wet your whistle:
Read a book(or books) covering a topic you want to learn more about.

Listen to a podcast.

Watch a documentary, take a break from the world of fiction to gain knowledge of an interesting topic.

Help the kids with their e-learning.

Evaluate and adjust those New Year's goals you wrote down a few months ago.

Plan a future vacation and determine the steps needed to get you there.

Journal daily thoughts, kind of like a "captain's log" type of thing.

Take a nap.

Keep moving (see above).

Hop on a webinar.

Declutter the house and give it a deep clean.
We are going to get through this and return to our lives outside of the house. A challenge to you is to be a better YOU than you were at the beginning of this pandemic. Taking action during this time to maintain a positive mindset and to continue to grow mentally and emotionally will set you up for success when you reenter the world. Control your reaction, take action, and we will come out of this situation better than ever!
This blog was written by Tony Maloney, ACSM Certified Exercise Physiologist and Fitness Center Manager. To find out more about the NIFS bloggers, click here.