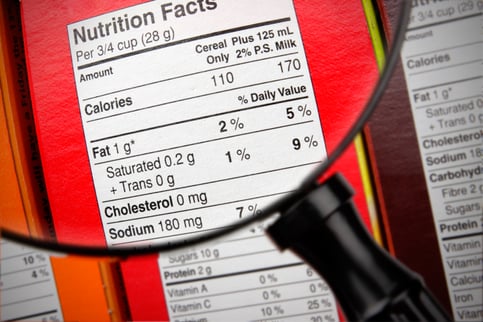 In part 1 of this blog, I showed you how to interpret the nutrition information on the front of your favorite packaged foods. Now let's get into the back of the package!
Serving Size and Servings Per Container
This doesn't necessarily tell you how much to eat, but all of the values on the label apply to this chosen serving size. You might be surprised to see that many items you thought were individually packaged really are telling you that two cookies are 160 calories. Let's say you eat the entire package (it happens!). You can take the "servings per container" and multiply that by all of the listed values. If two cookies are the serving, but you actually ate the entire bag, just take your 10 servings and multiply it by 160 calories to calculate that 20 cookies would be 1,600 calories.
Calories
For anyone trying to lose weight, it helps to cut back on calorie content, especially calories from packaged foods because they are often empty calories: the food gives your body a lot of calories but provides very little nutrition.
% Daily Values
Unless you are sticking to a strict 2,000-calorie diet, these numbers might not be very helpful for you, so don't look into these values too much. For instance, 5% DV of fat provides 5% of the total fat you want to eat on a 2,000-calorie diet. In some areas you may need more or less than the 2,000 calorie % Daily Value. Low is 5% or less—aim low in saturated fat, trans fat, cholesterol, and sodium. High is 20% or more—aim high in vitamins, minerals, and fiber.
Total Fat
Total fat sums up all of the following values. Type of fat is extremely important. Often, items that are "reduced fat" end up increasing your sodium and added sugar to make up for what fat would have brought to the table—taste and body. So don't shy away from fat completely. Just be mindful that fat packs a punch in terms of calories, so you want to practice everything in moderation.
Saturated Fat
The American Heart Association recommends keeping saturated fat to less than 5–6% of your total caloric intake. This means that if you eat about 2,000 calories per day, you will want to keep saturated fat at 13g or less per day. In general, about 3g of saturated fat per serving is a good goal to aim for, but make sure to try and stick to no more than 13g per day. The majority of saturated fat comes from animal products such as beef, pork, poultry, butter, cream, and other dairy products.
Trans Fat
The goal is 0g of trans fat. Keep an eye out in the ingredient list for partially hydrogenated vegetable oil. A trans fat ban is going into effect; however, the grace period means you may still have to watch for this harmful type of man-made fat. If a small enough amount exists, the serving size can be altered, and manufacturers may list trans fat as 0g even if there is a tiny amount of trans fat in the product.
Polyunsaturated and Monounsaturated Fat
The "healthy fats!" These fats may not always be listed. There isn't a big reason to limit them other than they can add a large amount of calories fairly quickly and contribute to weight gain. However, these healthy fats don't raise cholesterol like the saturated and trans fats do. These fats are found in nuts, nut butters, olive oil, fish, and vegetable oils. We won't put a limit on these healthy fats because, in general, the more the better because they help increase your good cholesterol (especially if you are replacing an unhealthy fat with a healthy fat—think olive oil for cooking instead of butter).
Cholesterol
The body is capable of making its very own cholesterol from dietary fat intake, so current nutrition recommendations do not emphasize limiting dietary cholesterol; rather, they talk about limiting saturated and trans fat (dietary cholesterol is seen as impacting body cholesterol levels less so than dietary fat does). However, because the science is always changing, try to keep cholesterol to no more than about 200–300 mg/day because any dietary cholesterol is ingested and taken in as simply cholesterol.
Sodium
The 2015–2020 Dietary Guidelines for Americans recommend consuming less than 2,300mg of sodium per day. The American Heart Association recommends sticking to 1,500mg or less.
Total Carbohydrates
The sum of your starches, fiber, and sugar (added and natural) [see below]. Carbohydrates have somewhat of a bad reputation, but you ideally want most of your diet to stem from carbohydrates. So don't shy away from these just because you might see a number you think is too high. Carbs provide your body with most of its energy needs, give your brain all of its energy supply, decrease chronic disease risk (fiber!), are key for digestive health (more fiber, yes!), and help with weight control (complex carbs!).
Dietary Fiber
Most experts agree that the average American should aim for a minimum of 25–30g of fiber per day. On average most of us come in at around 12g/day. See if you can get your 1–2 slices of bread to come in as close to 5g or more of fiber if possible!
Sugars
We aren't sure if these are natural sugars (natural fruit sugars we don't worry about!) or added (cane sugar), but we can sometimes deduce from the ingredients list whether most of the sugars are added or natural. If you see high fructose corn syrup, corn syrup, brown sugar, cane sugar/juice, honey, or maple syrup (there are many different names for added sugar!) near the top of the list, the sugar value is likely all added sugar. The American Heart Association recommends that men keep daily added sugar intake to less than 36g (9 teaspoons) and that women aim for less than 25g (6 teaspoons) daily. The 2015–2020 Dietary Guidelines are more lenient and recommend 48g or less daily for adults and 30–35g or less for children.
Added Sugars (optional)
Again, somewhere between 25-48g of added sugar daily or less is recommended (see above).
Protein
In general, the recommendation (dietary reference intake) is to consume about 0.36g of protein per pound of body weight daily. Anywhere from 10–30g of protein per meal is a good number to aim for. If you weigh 150 pounds, this means that you will want about 54g of protein daily (about 18g at each meal).
Vitamin D
600 IU or 15 mcg for most adults is recommended (aim for a higher %DV).
Calcium
1,000mg/day for most adults; women age 50+ 1,200mg/day.
Iron
Adult males and women over age 50 need 8mg per day. Women age 19–50 need 18mg. Pregnancy increases this need to 27mg daily.
Potassium
Aim for about 4,700mg of potassium per day (Dietary Guidelines for Americans).
Ingredients List
Pick items that have fewer ingredients—this usually means that they are less processed. Or bonus if the first three ingredients are whole foods. Ingredients are listed from highest weight to lowest weight. When it comes to crackers or bread, look for "WHOLE wheat" as opposed to "enriched flour" to pick breads that contain the entire grain. Whole grain, whole wheat, whole [other grain], brown rice, oats/oatmeal, or wheatberry means the grain is WHOLE. Wheat, semolina, durum wheat, and multigrain mean you might be missing some parts of the grain. Enriched flour, wheat flour, bran, and wheat germ mean there are no whole grains.
***
It's no wonder that we are so confused by labels—there is a lot of information to try and remember and process! The best way to avoid being misled is to avoid most processed foods. With most whole foods (apples, potatoes, oats, etc.), we can be certain that we are not getting too much or too little of any one nutrient. But even dietitians enjoy the convenience (and taste) of packaged foods every now and then, and we hope that the tips in this article help clear up some confusion for you.
This blog was written by Lindsey Hehman, MA, RD, CD. To learn more about the NIFS bloggers, click here.