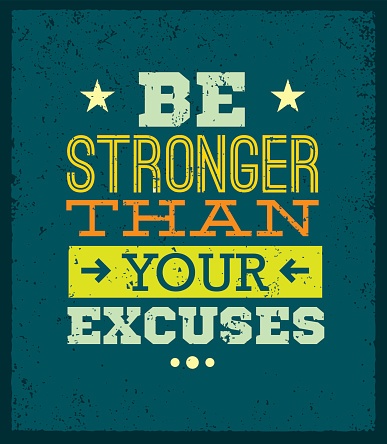 Of the many lessons that the recent events have provided, one that stands out to me is that anybody can be anything if they take action and pursue it. Establishing goals and setting your mind to accomplishing certain outcomes is important, don't get me wrong, but action is what ultimately will create change in any aspect of your life.
A rather large pet peeve of mine (I know I have a few) is the behavior of being the first and loudest to complain about something and being the last to do something about it. That is not inspirational, and is a weak character trait, in my opinion. More importantly, individuals who exhibit this approach to life are usually the unhappiest. In my experiences on this planet, the happiest and most successful people are those who take action and make changes, and not excuses.
Questions for Health and Happiness
So here are some questions I feel you should ask yourself if you are currently not as happy and healthy as you hope to be, followed by actions that you can take to help right the ship and have the life you have always dreamed of having.
Question: Are you tired most days?
ACTION: Get more sleep! Turn off the TV and tablets and aim for 7 to 8 hours of good sleep every night (including the weekends).
Question: Are you hungry?
ACTION: Eat real food! Enjoy food that is close to its source and is nutrient dense, not calorie dense.
Question: Are you stressed out?
ACTION: Plan better, implement strong time-management strategies, and devote 80% of your energy toward the top 20% of what is most important to you.
Question: Are you unhappy with your current body composition?
ACTION: See the second ACTION and exercise! Eat the majority of your calories from lean protein foods and vegetables, eat slowly, and remove processed items from your menu. Move every day for at least 30 minutes at moderate intensity, lift heavy things, and sprint once in a while. Keep it simple, and keep it consistent!
Question: Do you say to yourself "I don't have enough time to be happy and healthy"?
ACTION: Get up early! Stop hitting the snooze button and hit the floor running! There are 24 hours in a day; subtract 8 hours of sleep and 8 hours of work and you have 8 hours remaining. That is a lot of time to prep food, work out, read, spend time with your family, improve your home, and improve yourself. You can get a lot done in 8 hours if you take ACTION and not find ways to waste it.
Question: Are you unhappy in your relationships?
ACTION: First of all, change your circle and remove those who are toxic to you and your life. Second, make more deposits in the emotional bank accounts of those strong and positive relationships and stop withdrawing from them. Examples of withdrawals from these accounts are being untruthful, being late, insults, being undependable, and being hateful. Deposits are going out of your way to show someone you care, sharing, inspiring, and spending time with them. Building powerful relationships in your life is very important, so keep a surplus in those emotional bank accounts.
Question: Do you have a negative attitude about most things?
ACTION: Develop a positive and dynamic mindset as opposed to a fixed mindset. In a recent blog, I stressed the importance of mindset as it relates to change. If your unconscious story is a negative one, filled with self-pity and excuses for things being the way that they are, your conscious mind will simply carry out that negative story. Dive deep and analyze your story through journaling, counseling, and other strategies to write a more positive story of yourself and rid yourself of self-imposed perceptions that are holding you back.
Question: Are you ready for a change?
ACTION: Stop talking about it, and take ACTION!
Time to Do Something for Your Health and Fitness
So here's the bottom line: To create change, you have to get up and take ACTION to get it done! No more talking about it; it's time to do something about it. If health and fitness is an item on your action list, contact one of our outstanding instructors here at NIFS to help guide your way with an assessment and a personal fitness program and take ACTION toward a healthier, more fulfilling life.
This blog was written by Tony Maloney, ACSM Certified Exercise Physiologist and Fitness Center Manager. To find out more about the NIFS bloggers, click here.