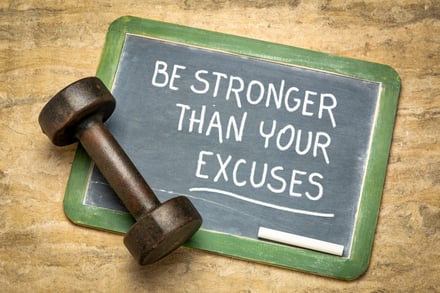 Let's be real. We aren't always motivated to work out, and sometimes it's hard to find that motivation. It's even harder to find motivation when you don't even enjoy exercise. It's important to learn why getting active is so important, and it all starts with changing your mindset about it.
So Why Exercise in the First Place?
There are hundreds of good reasons why it's important to stay active, but here are a few reasons that you might not know of.
Exercise charges you up.

Thirty minutes or more of vigorous exercise releases endorphins to the brain, giving you energy and an intense natural high. This can help you have more energy for your everyday activities and keeps you going.



Exercise can help your positivity. Studies show that exercise is a great way to help manage depression. It not only releases endorphins, but it also helps clear your mind of stress, confusion, and worry
Exercise can help with your social life. Exercising with others who are going to the gym for Group Fitness classes can be a great way to meet new people and help each other stay motivated.
Exercise helps you sleep. Working the body and clearing the brain ensures a good night's sleep. It can help regulate problematic sleeping patterns.
Switch Your Mindset
The biggest key to staying motivated with exercise is trying to switch your mindset. If you really dislike the idea of exercise, you need to switch the way that you're thinking, or you'll never get up and get active. Start to think of exercise as "being active" or "feeling healthy." A great way to start is to increase the overall amount of movement and activity in your day. For example, you can start by walking 10,000 steps per day. You also don't have to work out in a gym. Of course, gyms are useful and have a lot of equipment, but some days you can go outdoors or ride a bike. You can also try yoga or dancing as another method to stay active. At NIFS, we offer a variety of different Group Fitness classes to fit your needs and wants, so you are never bored or tied down to one form of exercise.
Small Steps
Sometimes you just have to take small steps to keep motivated. For instance, laying out your workout clothes or packing your gym bag the night before can remove several barriers in the number of decisions you need to make the next day. Or you can even have your gym bag in your car ready for the next day! You can also give yourself achievement awards, such as your favorite drink or new workout shoes. Use it as your motivation to get your workout done so that you can reward yourself with something you enjoy. Maybe you can even try a lunchtime workout. This will allow you to mix it up with some outside lunchtime training, and it can be an awesome way to experience natural light in your workout. Consider taking a brisk walk around the block or doing a quick HIIT workout before you go back to work.
Find What Works for You
The key is to really find what works for you. What might work for someone else might not be the right fit for you. Your health is your journey, and sometimes you must personalize it to make it worth it. Continue to try new things until you make your workout routine a habit. Remember that it's okay to take rest days. But always get back up and fight the next day.
This blog was written by Emily Lesich, NIFS Health Fitness Specialist. To learn more about the NIFS bloggers, click here.