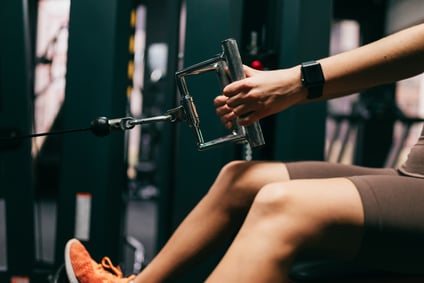 In this blog series, I have discussed four movement patterns that training should fit into. I then went on to talk about scheduling a training plan using the four movement patterns, as well as going over the pushing movement pattern. In this blog I will discuss the next upper-body movement pattern on the list, the pulling movement pattern.
Pulling Movement Pattern
This movement pattern works the muscles of the latissimus dorsi, trapezius, posterior deltoid, and biceps. These muscles are all responsible for pulling objects toward our upper body. These muscle groups are essential for those of you who sit at a desk for the majority of your day job. Strengthening the muscles of your back will aid in maintaining an upright posture.
Similar to the push pattern, the pulling movement pattern can be broken up further into a horizontal and vertical pull. A horizontal pull is one in which you are pulling the weight toward your torso (for example, rows); whereas a vertical pull is one in which you are pulling the weight down from overhead (for example, pulldowns).
Pulling Movements
Lats—Horizontal
Seated Cable Row

One-arm Cable Row

Bent-over Barbell Row

One-arm DB Bent-over Row

Chest-supported Row

TRX or Ring Rows

Upright Rows
Lats—Vertical
Pullup

Chin-up

Lat Pulldown

One-arm Kneeling Lat Pulldown
Trap/Posterior Deltoid
Facepulls

Pullaparts

Rear Deltoid Flys
Biceps
Barbell Curl

DB Curl

Cable Curl

Preacher Curl

Overhand Curl
Structure Your Training Program
For more information on how to properly progress and structure a training program, visit our staff at the track desk to schedule a private session. We are more than happy to help at any time, and as part of your membership here at NIFS, you receive complimentary workout programs. Our health fitness professionals tailor all programs to your fitness goals.
This blog was written by Evan James, NIFS Exercise Physiologist EP-C, Health Fitness Instructor, and Personal Trainer. To learn more about the NIFS bloggers, click here.