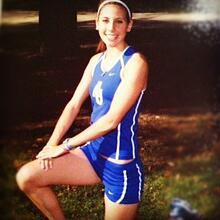 Four years ago when I began applying for schools, if someone asked me what I wanted to be when I grew up, I would have laughed and said, "I have NO CLUE!" I was not sure where I wanted to go, who I wanted to be, or what type of job I could see myself in. All I knew was I wanted to be close to home. Growing up I was very family oriented, so I knew whatever college I chose needed to be close enough to come home on the weekends for family dinner.
I found the perfect one, Aurora University—small campus, small class size, with the added bonus of being only 30 minutes from home! Here I found my niche in the Fitness and Health Promotion major, understanding various levels of exercise prescription for diverse populations, and having the expertise to plan and implement prescribed exercise programs.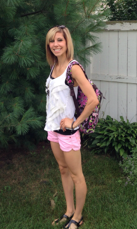 When my senior year rolled around, I had one last program to complete before I could hold my diploma: a 16-week internship! Completely overwhelmed at the thought, seeing that the internships I did previously were barely a month long, I spent countless hours searching for a good fit. And after 3½ years of living at home as a college student, I was finally ready to be out on my own. I wanted to challenge myself and find something completely out of my element.
When I came across NIFS, competitive was a complete understatement. I knew I would really need to step up to get accepted as an intern. But all the long hours of resume and cover letter work really paid off. Coming to NIFS was the best decision I could have made at this point in my career. Sure, it was hard for me to pack up all my belongings and live in a city by myself, but the reward was well worth it.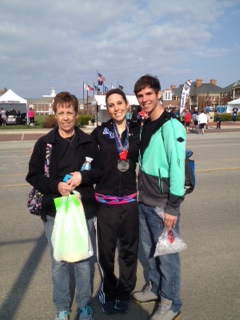 Wanting to find out where else my major could take me besides the personal training/coaching realm, and having a love for healthy lifestyles, I worked in the Education Services department with Angie Scheetz, RD. I did not just feel like another intern, but an employee who had my own responsibilities and tasks to contribute to the department. I worked on anything from wellness presentations and nutrition consultations to Mini Marathon training. Working with Angie I learned more than I had ever expected and was able to see how maintaining a healthy lifestyle goes hand in hand with exercising.
NIFS was different from any other internship that I have ever experienced, because there was the option to investigate the various other departments. Through shadowing and volunteering, I was able to experience just how diverse each was. Seeing what each job entailed helped to point me in the direction I wanted to go and left me with a better idea for a future career.
Although I still have a long road ahead of me in the fitness and health world, working at NIFS as an intern was a great experience that truly applied my education. I could not have asked for a better end to my senior year.
This blog was written by Alyssa Furman, NIFS intern. To find out more about the NIFS bloggers click here.