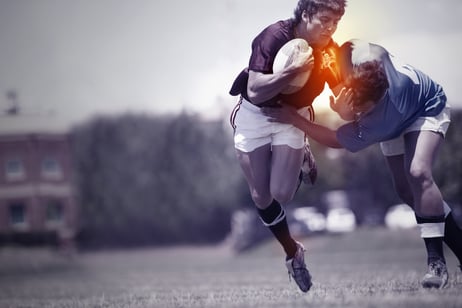 Sports careers, whether you are junior varsity or a hall of fame professional, all come to an end at some point. Often, these endeavors are marred with setbacks due to injuries ranging far and wide and sometimes spanning years. During competition and in the spirit of the moment, athletes sometimes push their bodies and minds beyond what was thought possible, resulting in amazing feats—but also potential injuries.
Don't Play Through Your Injuries
Injuries that occur when we push our bodies to the limit can become more pronounced when an athlete decides to continue activities instead of receiving timely treatment. Once commonplace, playing through injuries was more accepted in the past. However, with modern sports medicine and advanced technology, sports enthusiasts can enjoy longer, more productive careers than ever before due to increased injury awareness and preventative maintenance.
The adage "listen to your body" still rings true. Although you might not know what you are listening for, you can assess your situation and make smart decisions to help prevent more serious injury.
How Do You Know When You've Overdone It?
Symptoms of sports injuries and illness can vary, and anytime you have a serious concern about your health, refer to your primary care physician. Because every person experiences pain differently, resulting in a wide threshold, you may need to seek advice and consult a professional to help assess your situation. Here are some of the most common symptoms of injuries, according to Harvard Health.
Chest pain:

Although this goes without saying, your heart is the most vital muscle in the body. Although coronary artery disease is not curable, treatments make it possible to decrease the chances for heart attacks (which may occur when a deconditioned individual is subjected to extreme strenuous exertion).



Difficulty breathing: Similar to chest pain, difficulty breathing can be a sign of more serious underlying issues with not only the lungs but also the heart and blood pressure. With high blood pressure, exercises such as sprinting and powerlifting typically put a lot of strain on the heart.
Joint swelling and pain: The swelling of a joint can range from tendon, ligament, or muscle injury to arthritis in the joint. It is good to know whether you are experiencing injury or arthritis because this will determine your level of treatment.
How to Recover and Get Back in the Game
These symptoms are common and can happen to almost anyone who exercises. Many other factors such as genetics, age, and medical history all play a role—not only in your injury, but also your healing process. "Getting back on the horse" is something we eventually want to do (once we are healed).
Here are a few tips that can get you back on the road to recovery without jeopardizing your health.
Before beginning a new workout program, meet with a fitness professional who can assess your physical fitness levels. Many tests are available, the

Functional Movement Screen

(or FMS) is designed to not only pinpoint potential red flags, but also to prescribe routines intended to better your movement patterns and decrease your chances for injury.




Beginning a proactive fitness program that targets your weaknesses and strengths can also help decrease your chances for injury. A program that identifies your strengths and uses them is good, but you also need to make sure your weaknesses are addressed. As these weaknesses become stronger, as a whole, you will become stronger.

Moving your workout to a more low-impact setting might also help. The pool adds a great opportunity to create exercise but not put stress on the joints. We know that swimming takes some skill, but just treading water can be a great way to burn calories. Depending on availability, zero-gravity treadmills and water treadmills are often used in the professional athlete world to get athletes moving (technology never ceases to amaze me).
Not sure about swimming? Check out these blogs by NIFS staff regarding the impact of swimming and some great ideas to help you get started.
Muscleheads rejoice and evolve!

This blog was written by Thomas Livengood, NIFS Health Fitness Instructor and Personal Trainer. To learn more about the NIFS bloggers, click here.