In our current state of fitness, many folks are continually looking for the next best exercise, program, or intense challenge. My challenge to you is to return to the basics, perfect those, and then explore the possibility of increasing the difficulty or completing some monster challenge. Gray Cook says it best: "Don't add strength to dysfunction; move well and then often." Translation: stop jumping right to something you are not prepared for just because you viewed it on "insta." I challenge you not to focus on and post epic exercise fails, but to post a video of someone performing a stellar squat, a pristine pull-up, or the proper push-up.
A Full-Body Exercise
The push-up is easily the most versatile and effective exercise in the vast movement library in fitness and health. Challenging spinal and core stability, upper- and lower-body endurance, and strength, the push-up, done correctly is truly a full-body exercise. A great push-up starts with a strong trunk, so start there by improving your planks and hip bridges to strengthen the entire system.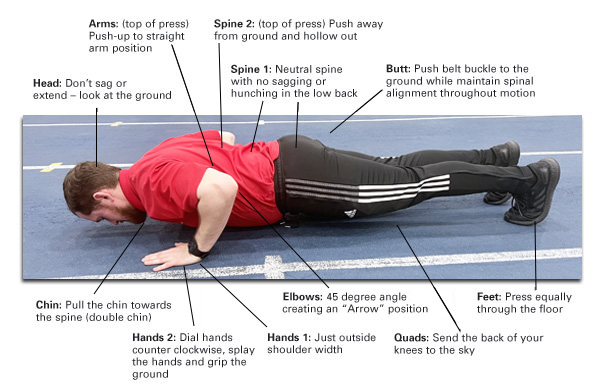 Push-up Checklist
Next, consult the following checklist to perform your best push-ups, and learn some variations to both assist and challenge yourself.
Spine 1: Neutral spine with no sagging or hunching in the low back.
Spine 2 (top of press): Push away from the ground and hollow out.
Head: Don't sag or extend—look at the ground.
Chin: Pull the chin toward the spine (double chin).
Hands 1: Just outside shoulder width.
Hands 2: Dial hands counterclockwise, splay the hands, and grip the ground.
Elbows: 45-degree angle creating an "arrow" position.
Arms (top of press): Push-up to straight-arm position.
Butt: Push belt buckle to the ground while maintaining spinal alignment throughout motion.
Quads: Send the back of your knees to the sky.
Feet: Press equally through the floor.
This blog was written by Tony Maloney, ACSM Certified Exercise Physiologist and Health Fitness Instructor. To find out more about the NIFS bloggers, click here.