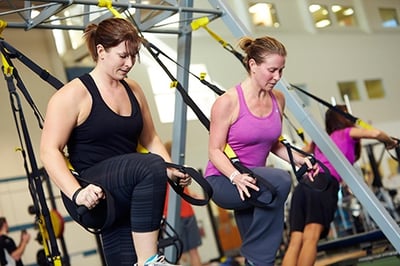 You may have been around the gym environment when TRX training came about and wondered what the benefit of using those straps could be. I remember hitting the weight room in college and thinking, "What on earth are those? And how could I possibly get as good of a workout with them as I do with lifting?" After spending only about 20 minutes on them, I quickly learned how suspension training using body weight could really build strength and challenge the entire body, no matter the movement!
The TRX was invented by Randy Hetrick, a Navy SEAL. His idea was sparked while on a SEAL mission, with a question arising of, "How can we stay mission-fit while on deployment?" With limited materials, Randy used parts of a parachute and a jiu-jitsu belt to create his first model, and soon he was off doing several exercises that we are familiar with today.
Benefits of Suspension Training
There are several benefits to using TRX in your workout. Science proves that it is effective in increasing muscular strength! Here are a few that really stick out:
Incorporates nearly every muscle of the human body. If you have ever taken a class or done some of even the most basic exercises, you quickly see that core activation is one of the most important aspects.


The workouts are simple yet very challenging, and you can easily complete a total-body workout only using one piece of equipment in 20 minutes.


The straps are also very mobile, and you can take them outside or on the road. You can even attach them to the back of a hotel room door to get a workout!



With an easy adjustment of your body, TRX training is safe.
A Quick Workout
I challenge you to take a TRX class at NIFS, give it a try on your own, or ask an instructor to teach you a few things. Here is a quick workout that can be done in 20 minutes or less. Give it a try and let us know what you think!
10 Rows

10 Jump Squats

10 Knee Tuck/Pike Combos

10 Hamstring Curls

10 Pushups

10 "Y" Pulls
This blog was written by Amanda Bireline, Fitness Center Manager. To find out more about the NIFS bloggers, click here.