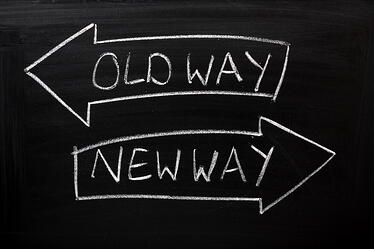 If you are anything like me, the new year comes with lots of "I'm going to do this (fill in the blank) better than I did last year," or "I am starting a new workout plan for the year," or maybe "My goal this year is to ________." Then mid-February hits and all those New Year's habits you planned to start, goals you were working toward, or things you were going to do better on have fallen off the radar.
Together, let's make this year different than the ones in the past! There are hundreds of articles out there to help you come up with ideas if you are struggling to think of some. For example, Health.com has a list of the top ten healthiest resolutions.
Now let's make those New Year's resolutions and make them stick! I came up with some strategies for turning your resolutions into healthy habits.
Have a plan. It is important to come up with a plan and put it in place. When you have a plan in place, it's a lot easier to stay on track than just winging everything and putting it off. Take some time to come up with a weekly or monthly plan to stay on track.
Program. Having a program in place helps you to stay focused, on track, and working toward a goal. There are lots of programs out there, or if you do not currently have one, the New Year is a great time to get started with one. NIFS offers personal program building from our Health Fitness Specialists.
Commit. This is probably the one area that people struggle with most, and I think that one of the greatest ways to make your habits stick is to be committed! Once you commit to a plan or a schedule, make it a priority and always keep in the back of your mind the commitment you made. Share your goals with friends and family.
Be accountable. Figure out what works for you in order to stay accountable. Maybe it's keeping a calendar where you check off that you did your workout today; maybe it's finding a friend to report to after your workout; or maybe you can use those wonderful smartphones that we all carry around to help remind you that you need to go to the gym! If you are struggling with getting to the gym on a regular basis, be sure to schedule in that time for yourself.
Do not settle for failure. It is easy to not do your workout once or twice, and suddenly you notice it's been several days! Don't be okay with slacking; stay on track and be successful.
Reward yourself. Who doesn't like a reward? Don't confuse it with going crazy, but find some way to reward yourself. Maybe it's one of those yummy sugar-free, no-calorie cookies or a new workout top. It does not matter, but find something that is a special treat for you for staying on track.
Now think of what has worked for you in past years. Use the strategies above and what already works for you to make changes that will stick for the new year to come.
Need help with a fitness plan? The best way to start is with a fitness evaluation. Schedule a free assessment with a NIFS HFS today then develop a plan that works for you!
This blog was written by Amanda Bireline, Health Fitness Specialist. To find out more about the NIFS bloggers, click here.