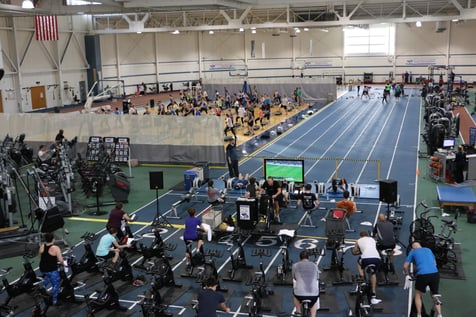 I have been in a gym environment of some kind for the majority of my life, first as a student athlete through adulthood and now as my profession. There really hasn't been a time in my life when I haven't been a part of the gym culture. There is a reason for that: I LOVE IT! I love to move, push myself beyond perceived limits, see successes, be around likeminded people, and witness amazing transformations and feats of strength. There is nothing like it, and I have done a great deal of growing up in a gym, and now it is my livelihood, literally.
In my opinion, a solid and enjoyable fitness community can rival any support environment out there. Fitness can bring people together and give feelings of belonging, help each other through life struggles, and provide smiles on days when smiles are hard to come by.
Ten Ways to Be a Great Gym Member
So how do we, as individuals, be strong members of a fitness community that allows for acceptance, belonging, safety, and fun? Like most places you visit, there are customs and rules of etiquette that help provide the culture that brought you there in the first place. Whether you are a lifelong gym-goer like me, or are just joining a facility for the first time to tackle your new year's resolutions, follow these customs to be a strong member of your fitness community and provide an example for others to follow.
Lower the noise. I'm referring to the grunts and heavy breathing. Now, I am not advocating lowering the effort level of whatever it is you may be doing, but lowering how loudly you express your effort level. Your headphone noise can also be a negative distraction, especially if you enjoy songs with more colorful language.
Detach the phone from your hand. Okay, so I know that we are pretty dependent on technology these days, for good reason. And I am not here to argue the pros and cons of the mobile phone in society. But I would offer that real-life connection is far better than the virtual kind. With that said, put the phone away and connect with the people who are there for the same reason you are, to get better. Warning: Mobile Phone Head and Neck Pain Syndrome is a thing! Put the phone down and look up.
Put your stuff away. If you respect your fitness community, you should respect the idea that others would like to use the equipment as well and should be able access it from where it belongs. Help your gym brothers and sisters by putting your equipment back where it came from so someone else can use it, while at the same time keeping your community safe by removing trip hazards.
Wipe down your stuff after use. Another way to keep your community safe is to wipe down your equipment with the disinfectant and towel provided to you. It really only takes a second, and then be sure to show consideration and put the towel in the dirty towel bin.
Share your stuff. When you have completed a set, it's just good manners to allow someone to work in on the same piece if they are waiting to use it. Sitting and looking at your phone (see #2) during your rest period while occupying the equipment just isn't cool. Hop up and let someone in; you never know, you could meet a best friend!
Cover your stuff. Have you ever heard the phrase "No Shirt, No Shoes, No Service" (I'm going to go ahead and include pants here as well)? This goes doubly in your fitness community. More exposed skin equals more bio-fluids finding their way onto surfaces of equipment, mats, and floors. This can cause the spread of an array of communicable diseases. Also, in a fitness community, strong members appreciate modesty and acceptance of all body types. It is fantastic that you love the way you look; now wear your workout gear proudly and respectfully.
Mind the time. Be mindful and respectful of the hours of operation for your fitness community and plan your workout accordingly to stay within its working framework. Show up to group fitness classes on time, and if you are more than 10 to 15 minutes late, hit another class or ask for some help from an instructor on some exercise options.
Mind the advice. Be certain that someone new to the fitness community is looking for exercise advice from you. It's great that you have a great deal of experience or read the latest article on BodyBuilding.com, but unsolicited advice can be annoying to some and can hurt the positive experience they are there to have. Trust me, in my experience, most people will ask if they are looking for advice.
Use the resources. Instructors and trainers are there for a reason: to help you and provide a great experience for the members of the fitness community. If you have questions regarding the equipment or exercises, don't be afraid to ask. At NIFS, our instructors are here solely to help you and be the best part of your day. Let them help guide you in all aspects of the gym environment. You'll learn a bunch of new stuff while you are at it.
Be friendly and considerate. A gym should be fun and a happy place to go to! That is guaranteed when people are being friendly and considerate of the needs of the entire environment and not just their landscape. Simple things like sharing your equipment, opening the door, and saying hi all add a positive vibe to the environment.
The Gym Is Like a Lot of Other Great Communities
If you notice, most of the actions on this list are the customs you will find pretty much anywhere you consider a great community such as neighborhoods, churches, restaurants, and fun gathering places. The gym shares so many similarities to those pillars of our lives, and it should be treated with as much respect and effort to keep it a place people want to belong to and visit daily. A gym can be a special place, where goals are sought after and obtained and friendships spawned and nourished; a place where everybody knows your name (cue the song).
So follow these customs to be a fitness community leader and work together to make your gym special!
This blog was written by Tony Maloney, ACSM Certified Exercise Physiologist and Fitness Center Manager. To find out more about the NIFS bloggers, click here.