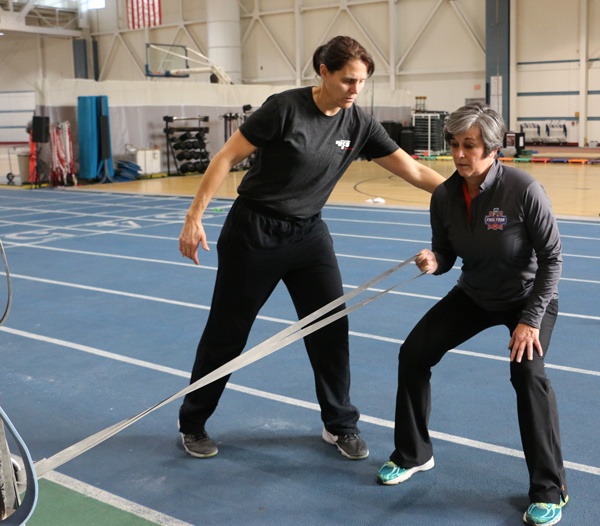 In an industry that is constantly evolving, the world of fitness is never boring. As a fitness professional, I get a lot of questions about what I do and why I do it. Each question, although relatively complex, has a simple answer.
I chose my profession because I love to motivate, converse, educate, and be enthusiastic around other people. My passion made college classes and clinical research thrilling. I also wholeheartedly believe that a healthy lifestyle extends positively to all aspects of an individual's life, as well as their family, friends, and coworkers. The human body is miraculous and deserves to be treated so.
The incidence and severity of disease can be decreased through regular physical activity (insert flashing neon arrows). Even so, large populations of individuals still do not have the knowledge to maintain an active lifestyle for themselves or their families as preventative action. It is my career goal to educate those individuals who might not know where to begin or how to progress, or have diminished hope, through behavioral-change goals. However, in an industry that also has many non-credible sources and educators, it is important to be able to separate the two.
Below are some of the regularly asked questions within our field and their answers to help you in choosing a fitness professional who best fits into your plan.
What Is a Fitness Professional?
The best definition of a fitness professional comes from the American College of Sports Medicine:
"A Health Fitness Professional has a minimum of a bachelor's degree in Exercise Science. The individual performs pre-participation health screenings, conducts physical fitness assessments, interprets results, develops exercise prescriptions, and applies behavioral and motivational strategies to apparently healthy individuals and individuals with medically controlled diseases and health conditions to support clients in adopting and maintaining healthy lifestyle behaviors. Academic preparation also can include fitness management, administration, and supervision." (2015)
How Do You Become a Fitness Professional?
To become a fitness professional an individual must obtain a four-year degree or a graduate degree in Exercise Science, Kinesiology, Health Studies or in a health and fitness–related field. After graduating, an exam is taken through a certifying body, such as the American College of Sports Medicine (ACSM) or the National Academy for Sports Medicine (NASM). Some of the most common exams include the Certified Exercise Physiologist (formerly Health Fitness Specialist) and the Certified Personal Trainer. If an individual is in a cardiac rehab environment and obtains 400/500 hours of clinical exercise programming, the professional can then apply to take a clinical-level exam.
How Do Fitness Professionals Stay Up-to-Date?
ACSM is the largest sports medicine and exercise science organization in the world, and they continue to set the standards in the fitness industry. ACSM requires a minimum number of CECs (continuing education credits) and CEUs (continuing education units) in a three-year period to maintain certification.
NASM, a leader in providing technology-based education and certification solutions, also offers CEUs alongside specialization exams.
Alongside CECs, CEUs, and specialization exams, individuals can subscribe to additional research publications and continue to take certifying exams. Attending conferences, taking graduate classes in the field, and meeting other individuals in the industry is also a great way to network and learn from peers.
How Do I Choose a Fitness Professional That Is Right for Me?
Today, many individuals market themselves as trainers or nutritionists. When choosing an individual to work with, ask about their education and background, how many clients they have worked with, and their specializations. Working directly with an individual is similar to hiring for a job; don't be afraid to ask for their resume or references! An individual who is qualified should happily comply.
It is also important to remember that a fitness professional is not a Registered Dietitian (RD). According to ethical guidelines, a fitness professional can discuss and provide insight into healthy alternatives but can't develop meal plans or suggest drastic diet changes. For in-depth nutrition advice, a fitness professional should always refer to an RD. Fitness and nutrition go hand in hand, but knowing scope of practice is important.
At NIFS, we pride ourselves on providing the most well-rounded professionals for every health and wellness need. For more information on what qualifications a fitness professional should have, check out the following resources.
"Exercise is really important to me—it's therapeutic." —Michelle Obama
This blog was written by Ellyn Grant, Healthy Lifestyle Coordinator. To read more about the NIFS bloggers, click here.