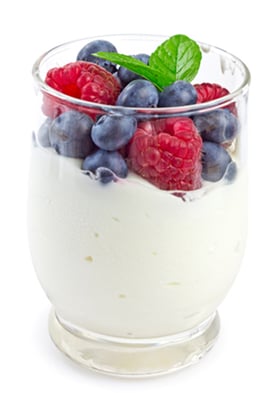 Probiotics are live bacteria and yeasts that are good for your health, specifically your digestive system. These "good" types of bacteria help to keep your gut working properly.

Lately the nutrition benefits of probiotics have been everywhere, which means they are popping up in all types of food. So, what foods should you be choosing as a way to get in probiotics, and what exactly are they doing to keep you healthy?
What Probiotics Can Do for You
Probiotics help move food through your gut. They also help with diarrhea and lactose intolerance, for those people who have trouble digesting lactose, or milk sugar. Probiotics have also been found to help with irritable bowel syndrome and inflammatory bowel disease.
More recent research has been going beyond stomach-related problems. Researchers have found probiotics can help with skin eczema, preventing allergies and colds, and oral health.
Which Foods Have Probiotics?
Most people think of yogurt as a food with probiotics, and this is by far the most common food choice. Yogurt would be an excellent addition to your diet not only because it's a more gut-friendly food, but also because it is high in protein, calcium, and Vitamin D. Choose a yogurt that states it has live and active cultures. Other dairy foods that are a good choice for probiotics are buttermilk, kefir, and soft cheeses.
If you want more options, consider these foods:
Miso soup: This popular Japanese starter has more than 160 bacteria strains and can keep your digestive system moving.
Sourdough bread: This type of bread is full of gut-protective probiotics.
Sour pickles: Choose naturally fermented kinds, where vinegar wasn't used in the pickling. Without the vinegar, more good bacteria can grow and increase the digestive benefits.
Tempeh: Made from fermented soybeans, this product can be used as a replacement for meat in meals. It is high in protein and is described as having a smoky and nutty flavor.
Try incorporating some or all of these foods into your diet to start reaping the benefits of probiotics.
This blog was written by Angie Scheetz, Registered Dietitian and Wellness Coordinator. To find out more about the NIFS bloggers, click here.