Being someone who loves to run, especially outside, I understand the challenge of trying to keep up my motivation during those "indoor months" that have suddenly crept upon us. As is typical for the winter season, Americans report exercising less frequently. And, just from October to November, adults who reported exercising 30 minutes, three or more days a week, drop off as much as 3 percent.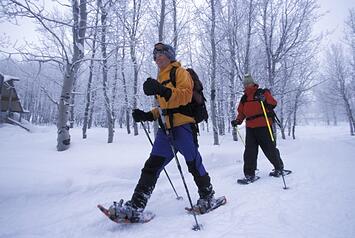 So how can we stay motivated for winter workouts? Here are a few ideas:
Try something new that you have been putting off. Have you ever walked by the Zumba® class and thought, "Hmm, that looks like fun. Maybe I should go in and give it a try? Nah, I'll go outside and run instead." Or what about that spin class that you've been eyeing since you started coming to the gym? Find a class or an indoor fitness challenge that you have been interested in trying and have just continued to put it off.
Build a personal workout calendar. With the hundreds of apps out there these days, this should be one of the easiest things to do. There are several that you can look up online, but check out the Workout Plan app if you need a good place to start. If you are a NIFS member, you can utilize our fitness assessment and exercise prescription at no additional cost. If you work out at another gym, see what services they have to offer to help you come up with a plan that's right for you. No matter what you choose to do, have a plan in place and follow it to keep yourself on track.
Find activities that you enjoy. One of the keys to staying motivated throughout the winter is to find things that you enjoy doing. You have to pick things that interest you and keep you wanting to come back to the gym. Maybe there is a program that you watch on TV every Tuesday night. Try coming during that time and watching it on one of the cardio machines. Or consider a weight training program or yoga that you have been putting off all summer long.
Get a workout buddy. Finding someone to work out with you will really help those long winter months go by faster. If you have an accountability partner to meet you at the gym, that will help to get you there consistently.
Sign up for a race. There are plenty of indoor events that you can sign up for, or register for a race during the spring to keep you in check. I know there are indoor triathlons within the Midwest that are a fun challenge to try if you have never done one before. You can always sign up for a race in a warmer state as well and make a little trip out of it.
Try other outdoor activities. With all this being said, we don't need to become hermits and lock ourselves indoors until May. Give some things a try that you haven't done before, like snowshoeing, cross-country skiing, downhill skiing, and running. These things can all be just as fun if you are dressed properly!
I hope this list has given you some new ideas for exercising during these winter months! Find something to keep you motivated and continue to train hard. Don't let yourself become one of those statistics in the study by letting exercise fall by the wayside during the cold months.
This blog was written by Amanda Bireline, Health Fitness Specialist. To find out more about the NIFS bloggers, click here.