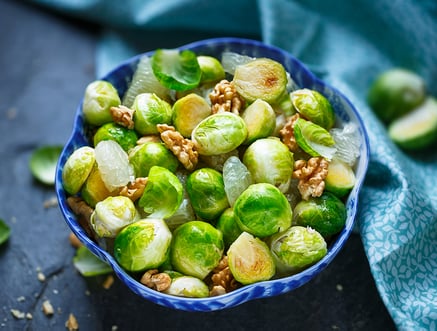 The never-ending cold and dreary winter weather is coming to an end finally. After months of staying in and hibernating on chili, casseroles, soups, and stews, it's time to break out the fresh and colorful foods! This is the perfect time of year to experiment with more fresh fruits and vegetables that are quick and easy and oh so good for you!
Here are some of my favorite recipes that I am excited about adding into my spring rotation.
Brussels Sprouts Salad
FOR THE SALAD
4 dozen Brussels sprouts (trimmed and sliced thin)
8 oz center-cut bacon (cooked and coarsely chopped)
1 cup pecans, coarsely chopped
1 cup grated Parmesan cheese
FOR THE DRESSING
Juice of 1 lemon
¼ cup maple syrup
½ cup olive oil
1 small shallot (minced)
Salt and pepper to taste
In a large bowl, toss together the Brussels sprouts, bacon, pecans, and grated Parmesan cheese.
In a small bowl, whisk together the lemon juice, maple syrup, olive oil, shallot, and salt and pepper until thoroughly combined.
Pour the dressing over the salad and toss to ensure that all of the ingredients are evenly moistened.
The salad can be served immediately, or refrigerated for up to 4 hours before serving (if making further in advance, keep dressing separate until ready to serve).
***
Eggplant and Goat Cheese Bake
3 thin eggplants, sliced into ¼-inch-thick slices
3 cloves garlic, finely chopped
1–1½ cups medium tomatoes, chopped into 1-inch cubes
4 oz. goat cheese
1⁄3 cup basil, roughly chopped
½ cup olive oil for drizzling
Preheat oven to 375ºF.
In a 13 × 9 baking dish, layer the sliced eggplant, overlapping if necessary. Drizzle a little of the olive oil over the eggplant slices and gently toss them to coat.
Scatter the garlic over the eggplant. Then place the tomatoes evenly over the eggplant.
Crumble the goat cheese with a knife or your fingers and top the tomatoes. Then place the basil on top.
Bake 35–40 minutes, or until the eggplant is softened and the cheese is slightly melted. Serve hot.
As Farmers' markets begin to open, take advantage of fresh and local produce to come up with your weekly meal plans! Challenge yourself each week to try a new fruit or vegetable and base a meal around that choice. Have fun!
This blog was written by Angie Mitchell, RD. To find out more about the NIFS bloggers, click here.