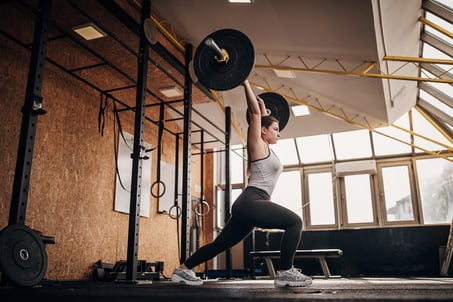 The first thought that comes into most people's heads when they hear the word weightlifting is, more times than not, "bulky." The perception is that heavy weightlifting will cause an undesired large gain of muscle mass. This is true; weightlifting will cause you to put on muscle mass, but it will take a lot more than just lifting weights to be "bulky." Please do not let your goals steer you away from certain exercises.
What Is Olympic Weightlifting?
The sport of Olympic weightlifting is comprised of the snatch, and clean and jerk. The snatch is a lift in which you take the bar from the floor to overhead in one swift movement. The clean and jerk is a lift in which you take the bar from the bar to the shoulder in one swift movement, and then take it from the shoulder to overhead in a second movement. The Olympic lifts are full-body, explosive movements that require the use of every muscle group in the body.
Take a look at any high-level athlete who competes in events such as track or wrestling. They have to get as strong as they can without putting on extra weight. They achieve this by lifting heavy loads for lower rep schemes as fast as they can. This is one reason why you will see athletes in these sports utilizing the Olympic lifts in the weight room. In the off season if they need to put on size, they will move to the higher rep ranges.
Benefits of Olympic Weightlifting
There are many benefits to learning and performing the Olympic lifts within your exercise routine. The lifts can be programmed in many different ways depending on your specific goals. These are my top five benefits of learning the lifts from a certified coach:
Body composition: The snatch and clean and jerk are full-body lifts that use the legs, glutes, back, abs, shoulders, and arms. Performing the lifts burns more calories in a shorter period of time compared to performing isolation/single-joint movements. The lifts and accessory lifts can be used to put on lean tissue, increase strength, and ultimately decrease body fat.
Muscular power and strength: Muscular power is how fast you can move a load. Decrease in muscular power over time is the main cause of falls in older adults. In Olympic weightlifting, nothing is done slowly. All loads are moved at max velocity, therefore increasing power. If your goal is to run faster and jump higher, power is the key ingredient.
Coordination: The Olympic lifts require precise coordination, rhythm, and timing. Improving body awareness and coordination is great for the activities of daily living. Learning new things also increases cognitive abilities in old age.
Range of motion: Most people associate heavy lifting with being stiff and bulky. The Olympic lifts, however, require the lifter to control a load through a full range of motion in the knees, ankles, hips, and shoulders. If the range of motion is not there now, or at the start of your lifting journey, over time training through a full range of motion will increase flexibility more effectively than static stretching one time per week.
Work capacity: Depending on how the lifts are programmed, they can be used to cause a range of positive changes to your body. One way to increase work capacity is by limiting the amount of rest time in between sets. Over time you will be able to recover faster from higher-intensity training.
The Olympic lifts should be performed under the eyes of a certified, experienced coach. Learning the lifts on your own can be done, but will take much longer and will not produce the results you are seeking. If you are interested in learning the Olympic lifts, visit our Master Class here at NIFS, which is free to members. If you are looking for one-on-one or more personal coaching, you can visit us at the track desk and one of our staff will get you going in the right direction.
This blog was written by Evan James, NIFS Exercise Physiologist EP-C, Health Fitness Instructor, and Personal Trainer. To learn more about the NIFS bloggers, click here.