V02 Assessment: A Wealth of Fitness Information for Training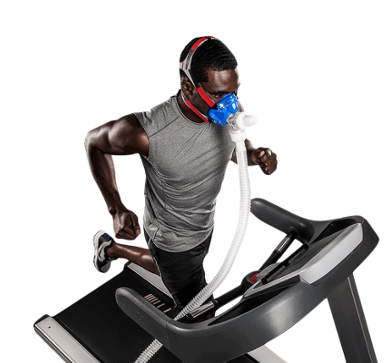 Fitness trends come and go, but heart-rate training is something that has been around for a long time; and due to its validity, I have a feeling it will not be leaving anytime soon. In fact, some places base their entire programming around your heart rate. And knowing your heart-rate training zone is actually a very useful tool for anyone—from the marathon runner to the three-times-a-week boot camp attendee!
Maybe you have felt totally spent after a workout, or on the flip side, you have been at the gym for an hour and don't feel very productive. Knowing your heart rate training zones can help you to train both harder as well as smarter. So become more efficient in your training by increasing your work capacity and decreasing the time it takes to do it.
Benefits of Knowing Your Training Zones
Take a look at the top 3 benefits of knowing your training zones:
Maximize performance. Train in your zones that are based on real numbers.
Know how to recover. Recovery is one important element to exercise that many miss. A V02 test will give you your recovery time in order to be efficient in things like intervals and rest.
Train harder and smarter. If someone told you that you could become more fit in less time, wouldn't you jump onto that boat? Knowing your zones allows you to be more efficient in your training
What Does This Assessment Show Me?
In other words, how efficiently does your body utilize oxygen and get it to the working muscles?
Four different training zones (low-fat burning, moderate-endurance, high-cardio training, and peak-cardio training zones).
V02 Max (your personal cardiovascular fitness level based on your age and gender).
Recovery (both heart rate zone as well as time it takes you to recover from peak performance).
Aerobic threshold (the window in which your body stops using oxygen efficiently and begins to rely on another energy system for the duration of the exercise—typically won't last long).
Anaerobic threshold (the point at which lactic acid builds up in the body faster than it can be removed; the point at which you do not have enough oxygen to sustain exercise for long periods of time).
Total calories burned (the V02 gives you the total amount of calories you burn during each training zone if you sustained that pace for the entire workout).
With all this being said, I would tell anyone from the regular everyday exerciser to the most elite athlete that getting a V02 assessment is something that is beneficial for your training. The cost is $100 for NIFS members and $115 for guests.
To schedule your V02 assessment, contact the NIFS track desk at 317-274-3432 ext. 262, or fitness@nifs.org.
This blog was written by Amanda Bireline, Fitness Center Manager. To read more about the NIFS bloggers, click here.