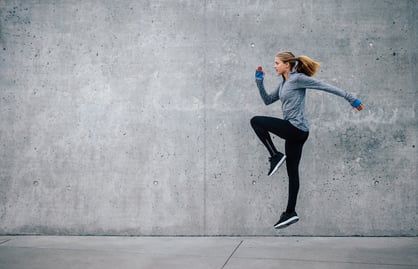 The "perfect" workout rarely happens. Every so often, you may have one of those training sessions where every block flows smoothly and programmed repetitions and sets are executed flawlessly. But for most days, there will be missed reps, you may feel more fatigued than you think you should, or the workout may not come together as you hoped it would. That is fine. Your goal should be to strive to be as close to perfect as possible, with the understanding that it may not always happen.
Prepare for the "Perfect" Workout
A "perfect" workout cannot happen without preparing your body to perform in the correct way. Preparation in this instance is in reference to your warm-up and what you are doing to get your body ready to do what is on your program. Always remember the 5 P's:
Proper Preparation Prevents Poor Performance.
Without a good warm-up, you can't strive for the perfect workout and you are further set up for underachieving in the movements you will do for the day.
What Should Your Warm-up Look Like?
About five years ago as a younger strength coach, the dynamic warm-up was always my go-to. Plyometric day? Dynamic warm-up. Squat day? Dynamic warm-up. Bench day? Dynamic warm-up. Speed/agility day? You guessed it, dynamic warm-up. The dynamic warm-up has its place, obviously, when you are going to sports practices or training sessions that will require multidirectional movement, but as I grew in my knowledge base I asked myself one question: Shouldn't your warm-up get you ready for what you or your athletes are actually going to do for their workout?
A Guide to Common Training Sessions
Below is a quick guide on some points to think about for common training sessions as you approach and build what might be one of the most important aspects of your workout day.
Plyometric Day
Mobility: Ankle and Hip (could add T-Spine if doing upper-body plyometrics)
Warm-up: Core, Jump Rope, Line Skaters, Lateral Line Hops, Small Box Jumps
Speed and Agility Day
Mobility: Ankle and Hip
Warm-up: Core, Dynamic Warm-up (Hi, old friend!), low-intensity plyometrics (i.e. skips, hops, bounds), agility ladders
Upper-body Day
Mobility: Thoracic Spine
Warm-up: Core, Rotator Cuff/Shoulders, lower-intensity exercises that mimic the bigger lifts for the day
Lower-body Day
Mobility: Full Body (ankles, hips, t-spine)
Warm-up: Hips (band/monster walks), Goblet Squats (squat/quad dominant day), Hinge Work (good mornings, hip thrusts, etc.) for deadlift day
The Staples of an Efficient Warm-up
As you can see, an efficient warm-up really consists of three staples: mobility of the joints you will be using that day, core (you are always stabilizing), and smaller, low-intensity movements that will mirror the bigger movements you are going to perform. An old coach from my college football days used to preach at us on the regular that, "You practice how you want to play." Well, Coach Alex is offering the same sentiment: "You warm up with the same intent as how you want your training session to go."
When you bake a cake, you don't mix the batter, put it in the oven, and then turn it on. That gets you crappy cake. You pre-heat the oven. Always preheat the oven.
This blog was written by Alex Soller, Athletic Performance Coach and NIFS trainer. To find out more about the NIFS bloggers, click here.