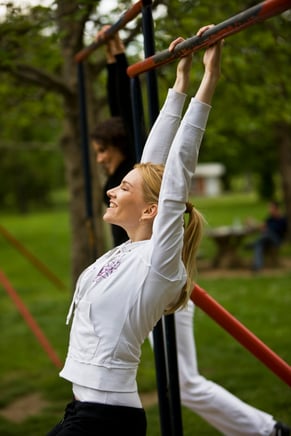 How many times have you looked around a room full of people and seen nearly everyone buried in their phones? Their shoulders are slumped forward and their head is hung low. Or maybe you're at work, and everyone's busy composing emails with that same forward head position? Chances are, it won't be long before you notice this posture elsewhere, and it can wreak havoc when it comes to the health of your shoulders.
Although it varies from year to year, research has found that the prevalence of reported chronic shoulder pain in the United States ranges anywhere from 23% in 18–24-year-olds to just over 50% in those 55 to 64 years old. This can be the result of a variety of factors such as previous acute injury, musculoskeletal imbalances, or dysfunctional movement patterns and compensations that over time accumulate to cause pain.
What Does the Good Doctor Say?
Dr. John M. Kirsch is a practicing orthopedic surgeon with over 30 years of experience in treating patients with wide-ranging issues when it comes to the shoulder girdle. He is the author of Shoulder Pain? The Solution & Prevention, in which he details exercise and rehabilitative exercise protocols to help alleviate or eliminate shoulder pain. He found that in 90% of his patient population who were expected to have shoulder surgery, prescribing one movement as an alternative actually eliminated their pain altogether. And this movement is the brachial dead hang.
What Is a Brachial Dead Hang?
A brachial hang describes a vertical hanging pattern from a fixed point. Think back to when you were a kid on the playground. We climbed up and down structures and swung from the monkey bars during recess. This was routine. This hanging movement acts to positively change the structure of the shoulder girdle itself. Evolutionarily speaking, we were literally built to hang; it goes hand in hand with our physiology. However, when we spend years and years hunched over, gravity, along with lifestyle changes, makes it easier for the shoulder to be chronically stuck in an anterior, rolled-forward position. This can not only exacerbate any underlying shoulder injury, but can also cause dysfunction of its own, leading to potential impingements and pain.
The act of hanging works to reverse this shackled pattern that arises over time. It also aids in spinal decompression, encouraging appropriate space between the ribs, and allowing for more effective breathing mechanics as well.
How Do You Build Hanging into Your Routine?
If you've never hung from a pull-up bar before, the goal is to start small and gradually work your way up to supporting your full body weight. Specifically, start with a box underneath you so that you will have your feet touching the ground. Gradually let your body weight carry you down while keeping your feet on the ground, and support as much of your weight on the bar as you can tolerate. Hold this position for 10 seconds, resting for as long as needed, before trying another 10-second hang.
Dr. Kirsch has recommended hanging for up to 1.5 minutes per day, in whatever increments you can tolerate. This could be bouts of 10, 15, or 30 seconds depending on your grip strength. So the next time you're in the gym or passing your local park, try giving a dead hang a shot. It could help quiet down some of those cranky shoulders.
This blog was written by Lauren Zakrajsek, NIFS Health Fitness Instructor, Personal Trainer, and Internship Coordinator. To learn more about the NIFS bloggers, click here.