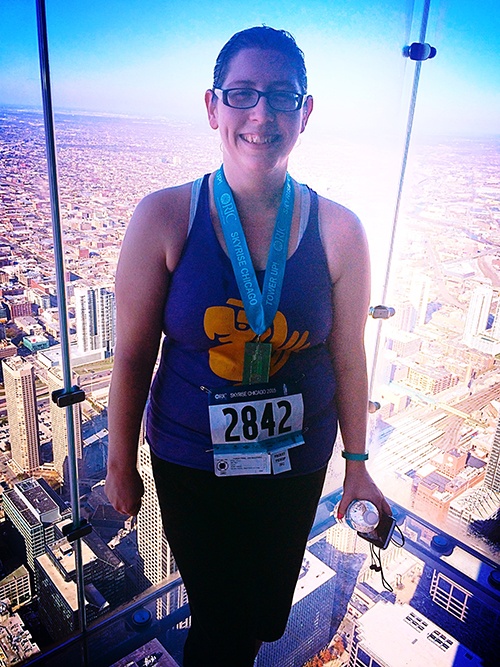 In October 2014, Allison Griner decided to join Weight Watchers through her work. Her reasoning was quite simple: "They were giving a discount through my job." That day she weighed in at 301 pounds. It wasn't long before Allison started seeing some results and realized that exercise needed to be a part of the plan as well, so she decided to sign up for an event to keep her motivated. The first thing that came across her radar was the Fight for Air Climb, and in preparation for it she signed up for the boot camp at NIFS.
Now for anyone who doesn't know what the FFA climb is all about, I'll just say it's probably one of the hardest events you could sign up for! The climb is a race up the 49 flights of stairs in the Chase Tower in downtown Indy. And if that doesn't sound hard enough, the boot camp at NIFS is not the easiest of tasks, either! But Allison completed the boot camp amid the severe challenges of not being able to do a burpee or climb the stairs in the workouts.
It's been over a year now that Allison has kept to her weight loss journey. She consistently follows a workout schedule, meeting her cousin at the gym, and watches what she is eating; and she combines both cardio and strength training workouts to meet her goals. Allison also has PCOS. PCOS (Polycystic Ovary Syndrome) makes losing weight a very difficult task and is linked to an increased risk for insulin resistance, type 2 diabetes, high cholesterol, high blood pressure, and heart disease. Allison has spent lots of time learning to eat right and to focus on making sure that her perspective is not on how her condition inhibits her losing weight, but rather taking the stance of, "It's not that I can't lose weight, I just remind myself it's easier for me to gain weight." Despite the odds that are against Allison, she has lost 75 pounds since October 2014!!*
Here are a few things that Allison had to say about her journey:
What has kept you consistent in making a change?
I am a very goal-oriented person, and when I see success it makes me want to keep pushing to the next level. I keep setting milestones, and once I got the eating part under control I knew that adding exercise and staying consistent with that would keep me reaching those.
What things have kept you going?
People in my life are what has kept me going! My mom, my roommate, my friends, and other family have really supported me and helped me to believe in myself. Even in times when I start to feel down, they push me to keep going. There are times that I have hit a plateau and they keep encouraging me to keep it up!
What are your secrets to success?
I forgive myself a lot. If I get down or make a mistake I forgive myself, pick up where I am, and move on. I tell myself it's a new day and I am going to do better than I did yesterday. I am constantly trying to look forward and not backward, which I think is the key.
How has NIFS helped you to achieve your goals?
This facility is fantastic! There are so many different things to do that I never get bored. There are tons of options with weight lifting, the versatility with the track, the canal, or a treadmill. It's impossible to not get a good workout. FFA also helped me in the beginning to realize it will take hard work, but that I am capable of doing anything I put my mind to!
What has been the hardest part of this weight-loss journey?
The hardest part is that this is a mental thing. I am always struggling to not see myself as that 300-pound girl. I am not surprised by what people say or what I see in the mirror and how much weight I have lost, because the challenge is looking in the same mirror and seeing myself as not just the big girl that I was. It's also a struggle if I slip up and eat something I shouldn't. I have to overcome that mentally and remind myself there will be setbacks and I will make mistakes.
What has been the biggest reward from all your hard work?
I feel better!! I was having chronic back problems when I was at my heaviest weight, and those have been nearly eliminated! The best reward is definitely how I feel.*
Anything else you want to share?
When I was at my biggest weight I always felt like I was in the way. I was never able to go out and do things with friends; my biggest fear was being in a crowd and being in the way. I would get so nervous about the idea of having to maneuver through a crowd of people. If you think that way, you can do something about it! One of the biggest changes I and others have seen through this time is my social life. I am confident to go out and be myself now!
*Weight loss claims and/or individual results vary and are not guaranteed.
Congratulations Allison on all your hard work and success! We know this journey has not been easy and it's not over yet, but we encourage you to keep going and sharing your inspirational story!
***
This blog was written by Amanda Bireline, Fitness Center Manager. To find out more about the NIFS bloggers, click here.