Diabetes is a disease that affects 8.3% of the population, or 26 million individuals. When it comes to diabetes, nutrition is key. The goal is to be able to choose foods that help to keep blood sugar levels under control and in the recommended range.
The best way to eat to guarantee optimum blood sugar levels is to always combine carbohydrate foods with a protein to help prevent levels from spiking too high. Foods that are carbohydrates are grains such as rice, cereal, and pasta; dairy foods such as milk and yogurt; and fruits and vegetables. Foods that have protein include meat, eggs, soy, beans, nuts, and dairy foods (which also contain protein in addition to carbohydrates).
Here are some diabetic-friendly recipes that follow this suggestion.
Mini BBQ Chicken-Topped Potato Halves
Ingredients: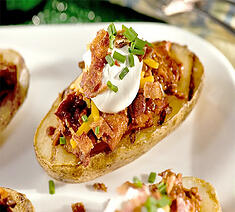 —2 (1/4 lb total) new potatoes, scrubbed and pierced with a fork in several areas
—2 cups prepared shredded barbeque chicken
—1/3 cup fat-free Greek yogurt or fat-free sour cream
—1/4 cup finely chopped green onions (optional)
Instructions:
Place the potatoes on a microwave-safe plate and cook five minutes, turn, and cook another 4 to 5 minutes until fork tender.
Meanwhile, place the barbecue chicken in a small saucepan and heat over medium heat, about 2 minutes or until thoroughly heated. Stir frequently. Remove from heat and cover to keep warm.
Place potatoes on cutting board, cut in half lengthwise, top with equal amounts of chicken, and then top with the sour cream and green onions.
*Serving size is half a potato; makes 4 servings.
Calories: 83; Total Fat: 1g; Total Carbohydrate: 24g; Protein: 10g
Grilled Asparagus
Ingredients: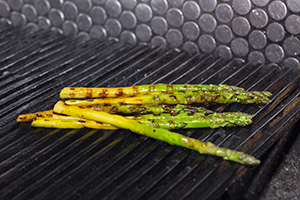 —1 pound/bundle of fresh asparagus
3 tablespoons olive oil
—Pinch of pepper
—¼ tsp Mrs. Dash salt-free seasoning
—1 ounce Fresh lemon juice
Instructions:
Heat grill to high heat.
Lightly coat the asparagus with olive oil, squeezed lemon juice, pepper, and Mrs. Dash.
Grill 2 to 3 minutes.
*Makes 4 servings. **Pair this with your favorite grilled lean meat
Calories: 116; Total Fat: 10g; Total Carbohydrate: 6g; Protein: 3g
Strawberry Yogurt Parfait
Ingredients: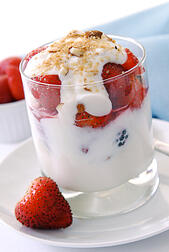 —1 cup Chocolate Cheerios®
—2 containers (6 oz. each) Yoplait Greek Strawberry Yogurt (1 1/3 cups)
—2 cups sliced fresh strawberries
Instructions:
Save two teaspoons of Chocolate Cheerios for toppings.
Take each of the serving glasses and layer 2 tablespoons of yogurt, 2 tablespoons of Chocolate Cheerios, and 1/4 cup of sliced strawberries, and repeat layers.
Top with the remaining Cheerios and a whole strawberry.
*Makes 4 servings.
Calories: 136; Total Fat: 1g; Total Carbohydrate: 25g; Protein: 8g
Getting the Balance Right and Learning More About Diabetes
Most individuals need between 45 and 60 grams of carbohydrate per meal. Combine this with 15 to 25 grams of protein and blood sugar levels will remain stable and in the healthy range. By incorporating dietary changes, diabetics will be able to improve their health and manage their diabetes.
This blog was written by Angie Scheetz, RD. For more information contact her at ascheetz@nifs.org or 317-274-3432, ext 239.