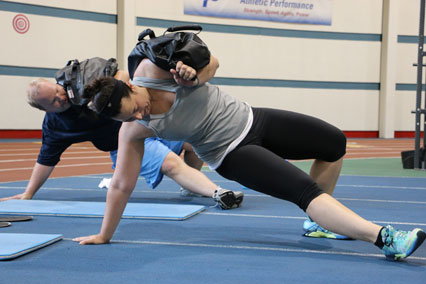 When you think of the term "economy," what is the first thing that comes to mind? Money would probably be number one, and maybe government and the idea of debt would more than likely come to mind next. There is another economy that should be as well known, and that is your training economy. Simply put, your training economy is the rate of return that you get from the methods and practices of your current training program.

How much time do you spend in the gym or working out? Are you getting the results you set out to achieve? Are you getting the best ROI (return on investment, as they say in business)? Time is one of our most valued commodities, and how you spend your time working toward your health and fitness can determine whether you are on your way to bankruptcy (injury, lack of results, etc.) or getting the most out of your biggest investment.
First and foremost, in my opinion, if you are spending more than two hours in the gym, you are making friends, not gains. If that is your thing, that's great, but you can never say "I don't have the time to get the results I want." Save the Instagram photos and tweets for vacation, and WORK when you are in the gym. Most importantly, you will want to get the most out of the time (there's that word again) you have committed to training and being the best you that you can be. There are two surefire ways to get the biggest return on your investment while in the gym:
1. Have a plan of attack.
Needless to say, the plan (or program) is a very important step in ensuring that the time you are working toward the goals you defined is purposeful and bringing you closer and closer to that outcome. This plan should be specific to the goal you are striving to achieve, and should adhere to sound principles. This plan should be progressive. A great coach told me once that you can't put your tie on before your shirt. Master the basics before moving on to more advanced movements. Read more about this investment step in my previous posts, Do You Even Lift Bro? Weightlifting for Beginners and Alice and Chains.
2. Emphasize "big bang" movements in your program.
Performing what are widely known as "big bang" movements is the second way to get the biggest return on your investment of time. Big bang movements are categorized by including multiple joints, including multiple planes of motion, and incorporating variable loads during the movement. Here are five of my favorite biggest "bang for your buck" movements.
Squat and press: Combining both upper and lower body, squat and pressing patterns, and loading the anterior core; the Squat and Press exercise provides a whole lot of BANG!
Ultimate Sandbag Rotational Lunge: As your body moves in one plane of motion, the load of the sandbag will be moving in another. This awesome big bang movement will not only challenge your stability, but it also hits both the lunge and hinge patterns at one time. What a bargain!
Turkish Get-ups: One of the most all-encompassing movements on the planet. The Get-up combines mobility, stability, and strength all in one package. This movement takes some practice before loading it, so take the time to master it to get the most out of it.
Crawling patterns: You have to crawl before you can run, right? Crawling patterns are a great way to target the entire system while performing something that is innate to us humans. Try out different variations to continue to stress the body in different ways.
Dead lift: Considered by some to be the "beast" of all movements, the dead lift is a huge, multi-joint-pulling motion of awesomeness. We all at one time in our day must bend over to pick something up. The dead lift prepares us for that.
Getting the most out of your most precious gift, TIME, should be a priority in your fitness programming. Utilizing big bang movements can help you get the results you are looking for without burning the clock.
This blog was written by Tony Maloney, Exercise Physiologist and Fitness Center Manager. To find out more about the NIFS bloggers, click here.