Have you been considering a vegetarian diet? Approximately 3.2% of the American population currently follows a meat-free diet, with 0.5% of those following a vegan diet, which includes no animal products at all. This is very small when compared to India, where an estimated 42% of the population follows vegetarianism.

So why would you consider going vegetarian? There are many reasons, but the most popular are for health reasons, to help preserve the Earth's natural resources, and for animal rights.
Essential Nutrients for Meat-Free Meals
When some individuals decide to eliminate meat and other animal products from their diets, they might not be getting all of the essential nutrients that are important. So here are some nutrients to make sure you are getting in to guarantee your diet is balanced.
Protein: Essential for growth and maintenance. Food sources include beans, nuts, nut butters, peas, and soy products (tofu, tempeh, veggie burgers). Milk products and eggs are options for lacto-ovo vegetarians.
Iron: A primary carrier of oxygen in the blood. Food sources include iron-fortified cereals, spinach, kidney beans, black-eyed peas, lentils, turnip greens, molasses, whole-wheat breads, peas, and some dried fruit (apricots, prunes, and raisins).
Calcium: Important for building bones and teeth and maintenance of bone strength. Food sources include fortified breakfast cereals, soy (tofu, soy-based beverages), calcium-fortified orange juice, and some dark green, leafy vegetables (collard greens, turnip greens, bok choy, and mustard greens).
Zinc: Necessary for many biochemical reactions and helps the immune system function properly. Food sources include a variety of beans (white beans, kidney beans, and chickpeas), zinc-fortified breakfast cereals, wheat germ, pumpkin seeds, and milk products for lacto vegetarians.
Vitamin B12: Necessary for cell division and growth, and strengthens the immune system. Food sources include milk products, eggs, B12 fortified foods (breakfast cereals, soy-based burgers, veggie burgers, and nutritional yeast).
Additional Recommendations for Vegans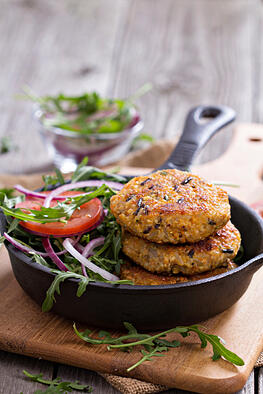 Vegans who do not have fortified foods and ovo-vegetarians who do not have fortified milk substitutes should consume the following daily:
3 to 5 teaspoons vegetable oil (for calories and essential fatty acid)
1 Tablespoon blackstrap molasses (for iron and calcium)
1 Tablespoon brewer's nutritional yeast for B vitamins, especially riboflavin and B12
Build Meals Around Low-Fat Proteins
Some final advice is to build meals around protein sources that are naturally low in fat, such as beans, lentils, and quinoa. Don't overload meals with high-fat cheese to replace the meat.
Many foods that typically contain meat or poultry can be made vegetarian. This can increase vegetable intake and cut saturated fat and cholesterol intake. A variety of meat-free products look (and may taste) like their non-vegetarian counterparts, but are usually lower in saturated fat and contain no cholesterol.
Most restaurants can accommodate modifications to menu items by substituting meatless sauces, omitting meat frm stir-fry dishes, and adding vegetables or pasta in place of meat. These substitutions are more likely to be available at restaurants that make food to order.
To find out more about personal nutrition coaching at NIFS, follow this link. If you would like to schedule a personal nutrition consultation to help you decide whether switching to a vegetarian diet is the right choice for you, contact me at amitchell@nifs.org.
This blog was written by Angie Mitchell, RD, Wellness Coordinator. To find out more about the NIFS bloggers, click here.