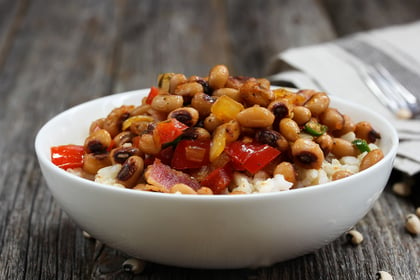 Every year on New Year's Day my husband's grandma makes cabbage. She says it's good luck. I had never heard of this tradition, and then someone else told me they eat black-eyed peas for luck, also. I decided to look into it and there are actually quite a few foods that people eat every year on New Year's Day hoping that the next year will be prosperous and lucky for them—all because of a meal they consumed on the holiday!
Lucky Foods
Here are some whole foods that are considered lucky in various cultural traditions.
Black-eyed peas: During the Civil War era, black-eyed peas (also known as field peas) were grown to feed cattle. During a siege in Mississippi, the town was cut off from all food supplies for two months. People were close to starvation and had to resort to eating the crops typically reserved for livestock. If it wasn't for the lowly "cowpeas," as they are also known, many people would have died, so this started the tradition of black-eyed peas bringing luck.
Pork: Ever hear the expression "high on the hog"? This saying originated because pork was seen as a symbol of wealth and prosperity. Particularly in Pennsylvania Dutch areas, slow-cooked pork is a traditional dish for bringing luck on the first day of the year.
Cabbage: This tradition started in Germany and Eastern Europe. It is typically harvested in late fall and then requires a six- to eight-week fermentation process, which means sauerkraut is ready around January 1. Cabbage has lots of symbolism because the strands of cabbage can symbolize a long life, while cabbage itself can symbolize money.
Lentils: Italians started this tradition because they believed the flat legumes resembled a Roman coin. They would typically serve it with pork so they could be doubly lucky!
And even after the holiday, you can continue eating whole foods with these recipes for seasonal winter vegetables.
Recipes for Good Luck
Here are a couple of recipes for you to try this New Year's Day to bring luck all year!
Slow Cooker Pork and Sauerkraut with Apples
6 thick-cut pork chops
4 tart apples, peeled and sliced
1 large onion, sliced
1 quart sauerkraut
½ tsp fennel seed, or to taste
Heat a large skillet over medium-high heat. Brown pork chops in hot skillet, 2 to 3 minutes per side. Drain.
Arrange apples and onion in the bottom of a slow cooker; top with browned pork chops. Pour in enough water to cover the bottom of the slow cooker.
Cook on High for 3 hours (or on Low for 6 hours). Add sauerkraut and fennel seed to pork chop mixture. Cook for 1 more hour.
Makes 6 servings.
Slow Cooker Spicy Black-Eyed Peas
6 cups water
1 cube chicken bouillon
1-pound dried black-eyed peas, sorted and rinsed
1 onion, diced
2 cloves garlic, diced
1 red bell pepper, stemmed, seeded, and diced
1 jalapeño, seeded and minced
8 ounces diced ham
4 slices bacon, chopped
½ tsp cayenne pepper
1½ tsp cumin
salt, to taste
1 tsp ground black pepper
Pour the water into a slow cooker, add the bouillon cube, and stir to dissolve.
Combine the black-eyed peas, onion, garlic, bell pepper, jalapeño pepper, ham, bacon, cayenne pepper, cumin, salt, and pepper; stir to blend.
Cover the slow cooker and cook on low for 6 to 8 hours until the beans are tender.
Makes 10 servings.
This blog was written by Angie Mitchell, RD, Wellness Coordinator. To find out more about the NIFS bloggers, click here.