"She said she could, SO SHE DID."
These were the words in the back of my brain as I journeyed to my third marathon finish line, crossing it on November 3, 2018, with a newfound respect for the sport.
The Inspiration
In 2009 as a 16-year-old high school girl, I heard some words from my mom I never wanted to hear, not just from her but from anyone: "I have breast cancer." These words changed my life. I immediately became fearful of losing my mom, and in my moments of needing time to breathe and destress I turned to running. Running became my time to forget everything going on around me, and enjoy the beauty of nature and fresh air. It became my time to fully take advantage of these things, realizing at any moment in our life they could potentially be taken away. My mom survived two cancers, and to this day still wakes up getting to enjoy those beautiful things as well as her family and friends who helped her fight through her tough times.
The Journey Begins

After discovering this new love for running and fitness, I wanted to dive deeper into it. As a kinesiology major at Indiana University in 2011, I took on a part-time job at the IU Student Recreational Center, where I began teaching running group fitness classes called "Trekking." These classes were 30–45-minute runs that everyone could participate in at their own pace, and motivated people to get in their general health cardio recommendations through walking/running. I fell in love with the sport even more after this. During my college years, I also began hanging out with friends who enjoyed running as their go-to for general fitness too, and we turned our passion into weekend fun by participating in 5K races.
The Next Level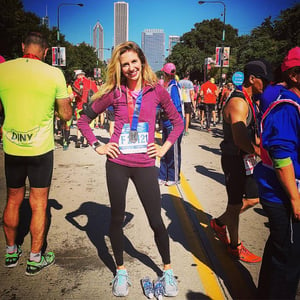 In 2014, I moved to NYC where I was going to pursue my passion for fitness in the fitness capital of the world. I was surrounded by some of the top fitness professionals and eager to learn more and more every day. In addition to this new lifestyle also came new stress. I turned to running again, and in one of the best parks you can run in, NYC's Central Park. Weekends were filled with seeing long-distance endurance athletes racing. Novembers were filled with spectating one of the biggest marathons in the U.S. right outside my Upper East Side apartment: the New York City Marathon. I was inspired! In addition to my running solo, I also began taking classes at Barry's Bootcamp from top trainers, including Nike Trainer Ashley Wilking, and hanging out with Jessica Woods, a Nike Run Coach and Ultra Marathoner herself. In February 2016, I ran my first marathon in Washington, D.C., where I completed with a goal in mind of under 4 hours, and finished at 3:54.
This "runner's high" was real. I immediately signed up for half-marathons and started training harder, and in October 2016 ran my second half-marathon for a breast cancer charity in Chicago, and set a personal record at a pace of 3:48. I was shocked by what the power of my body could do. But then I burned out after completing two marathons, two half-marathons, and endless hours of intense training through 2016.
A New Journey
After teaching thousands of fitness classes and achieving personal fitness goals, I was ready for my next journey to learn the business side of fitness. I took 2017 and half of 2018 to recover my body physically, and gain strengths in two new areas of my life: mindfulness (Strength Through Stillness) and business.
In that time, I experienced management in two different types of fitness setting, boutique fitness and the standard gym setting. I also began tuning into meditation daily, and focusing on the strength in my mind I had been experiencing while running. I was ready to sit in stillness and challenge myself in a new way.
My Mindful Marathon Experience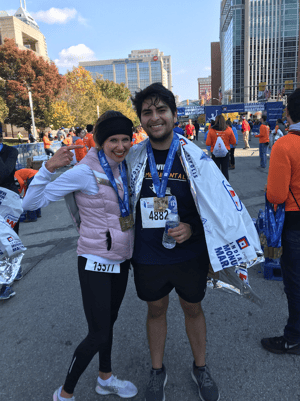 On August 15, 2018, I took on the role of coach for the NIFS Monumental Half/Full Marathon Training Program. Day 1, one of the participants told me he had just started running, and wanted to complete a marathon. He was one of two participants to sign up for the Full Training Program, and one of the only runners who had never participated in a running event before, including 5Ks or shorter-distance races. But he was determined to go the full 26.2 miles, and I was ready to coach him every step of the way. My knowledge from past experiences and mindfulness was the approach I took into this training and journey to get him to the finish line. When times got tough, I reminded myself of my 12-week goal motto "She believed she could, so she did."
Nestor crossed the finish line and is now a marathoner. My passion for running now holds a new place in my heart as I experienced coaching someone to achieve an amazing goal. I will never forget seeing him run through the finish line with the biggest smile as tears of happiness came running down my face, and getting the biggest hug of happiness every coach hopes for.
Interested in training for the Mini? NIFS Mini Marathon & 5K training program registration is now open!
This blog was written by Brittany Ignas, BS in Kinesiology, 200 Hour Yoga Alliance Certified, Stott Pilates Certified, and Fitness Coordinator. To find out more about the NIFS bloggers, click here.