Can you believe that Halloween is here? Last week in the grocery store checkout line, I was gently reminded that it is that time of year again by the hoards of chocolate bars and candy corn on the counter. I thought back to what I did last year, besides the typical handing out candy and trick or treating at some friends' homes, and remembered something I could share with you: A SPOOKY WORKOUT!
Here are the six "Halloween exercises" for your spooky workout!
Scary Black Cat:
This is an exercise for the lumbar region of the back. Go down on all fours, being sure that your elbows and wrists are directly under your shoulders and your knees are under your hips. Arch your back upwards, hold for three seconds, then let the lower back sag and hold for three seconds as well. Do five in each direction.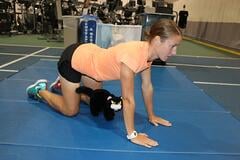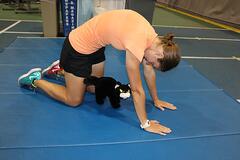 Creepy Crawler:
Starting on all fours in a high plank position, you will bring your right knee up and out toward your right elbow as your left hand extends forward. Try to stay low to the ground as you alternate sides.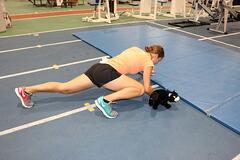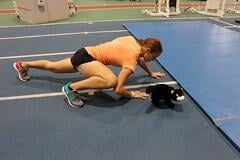 Witch Ride:
Start with your feet staggered and your back toe on the ground. Hold a resistance band (attached to something higher than the level you are standing at) with both hands. Descend straight down, bringing the "broom" (band) by your side. Repeat ten times on each side.
Full Moon:
Take a medicine ball and slam the ball on your right side. Then you will lift the ball overhead and slam it straight down, and finish by slamming the medicine ball above your head down on your left side.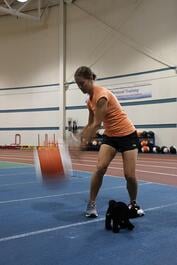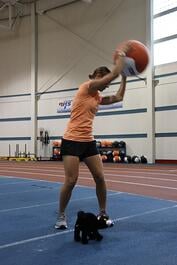 Pumpkin Swing:
Hold the pumpkin (kettlebell) with both hands in proper swing form. At the bottom of the swing, your forearms should touch the quads, allowing the bell to almost hit you in the glutes. Keeping the core tight, thrust the hips forward and tighten the glutes at the end of the swing.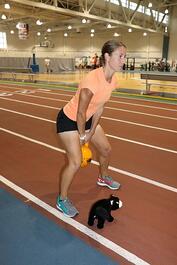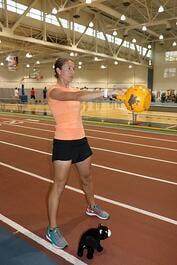 BOOty Lift
:
Lay on your back with your hands by your side and your feet flat on the floor close to your butt. Squeeze the BOOty to lift your hips off the ground, making your body flat like a tabletop. Return to the starting position and repeat.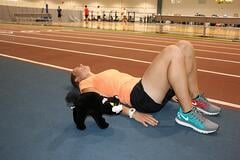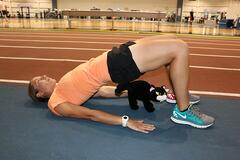 I hope that you are able to enjoy this SPOOKY Halloween workout! DO NOT BE AFRAID! ENTER THE HALLOWEEN WORKOUT ZONE IF YOU DARE! After a good warm-up, try going through each round three times, and finish with a cool-down.
While you're getting in the Halloween spirit, check out these other posts:
Plan for a Safe Halloween
Fitness Tricks and Treats