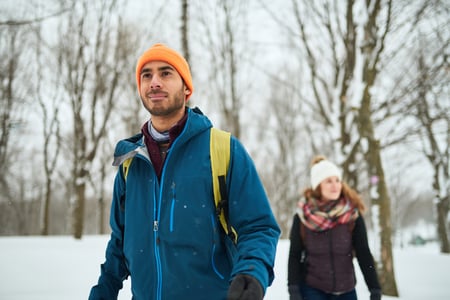 As winter approaches, don't let it discourage you from reaching your full potential and goals you've set for yourself. Continue to use exercise and strength training to keep your body healthy.
Keep Setting Fitness Goals
Continue to set goals; goal-setting will help you stay the course. Setting goals gives you purpose and meaning, and a reason to come to the gym. Set small goals and watch them turn into big ones. If you feel you're plateauing, get a personal trainer to help you push past your threshold. They will keep you accountable as well as push you to new heights in your fitness journey.
Focus on Nutrition and Healthy Eating
Use the cold months to really focus on your nutrition. Winter months can lead to more relaxation since outside activities are not as prevalent. Keeping good nutritional habits will help you achieve your goals. If you need help with nutrition, utilize a dietitian to help you find the right foods to eat. Meal prepping and eating real foods will be key during the winter months—not getting set on carryout food and outside dining. Although every once in a while it's okay to eat restaurant food, you want to focus on eating clean and getting proper nutrients into your body. Especially now during COVID-19, you want to make sure you're staying as healthy as possible.
Maintain Safe Practices in the Pandemic
Speaking of the pandemic, continue to practice safe distancing while out in public. That way, you'll keep your family safe and those around you. Try to minimize large gatherings. If you have to be with friends and family, make sure everyone does the proper things to keep everyone healthy and safe, including wearing masks. Use your best judgment while out and in social gatherings. Continue to wash your hands and sanitize equipment and any object that has been touched or will be touched.
Stay Busy and Keep Planning
Find new hobbies. If you're able to get outdoors, enjoy that time with family and friends. If you're not fortunate enough to be able to be outdoors due to the cold weather, find indoor activities to pass the time, but keep yourself busy. Don't let the winter months bring you down. Continue to plan daily to attack the day and stay motivated. Stay busy and stay healthy!
This blog was written by Michael Blume, MS, SCCC; Athletic Performance Coach. To learn more about the NIFS bloggers, click here.