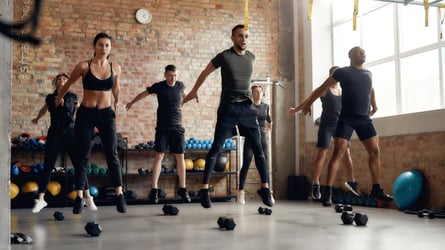 Want to jump higher, jump farther, or possibly dunk a basketball? With all the athletes I have trained over the years, at some point within their sport they all jump. Competitive as athletes are, they want to be able to jump higher like in volleyball, or jump farther like swimmers coming of the blocks, for example.
Warming Up Your Lower Body
Before you start jumping, you need to warm up your lower body. A fun way to wake up your lower body and prepare for explosive work like vertical or broad jumps is to incorporate easy plyometrics into your fitness routines. Plyometrics refers to exercises involving rapid stretching and contracting of your muscles.
An easy warm-up drill into plyometrics for athletes is to start with pogo jumps. They are one of my favorite athletic drills to warm up with and incorporate within athletic workouts. Pogo jumps are a great tool for teaching athletes what it feels like to be fast and or explosive off the ground. I use pogo jumps primarily to target the calves and shins. To a lesser degree they also target the hamstrings and quads within our warm-ups.
Proper Form for Pogo Jumps
Here's what we want to see out of athletes when doing pogo jumps: minimal ground contact time, and minimal knee flexion (knees over the toes). Each jump is mainly with ankle movement instead of hips and knees. Never let your heel touch the ground. Stay on the ball of your foot to utilize your lower-leg elasticity. Low pogo jumps look similar to bunny hops, and high pogo jumps are similar but emphasize more explosive power for height on each jump, making you look more like a kangaroo.
Pogo Jump Drills
Depending on available space, pogo jumps can be done in place for typically 10–20 jumps in a row, or you can do them for distance down and back in a 10-yard space. If doing pogo jumps laterally, I like to go 10 yards down right and switch halfway, and keep going 10 yards left. Like most exercises, you are only going to get out what you put into it, so really push yourself to jump for speed (quickness) or height (explosive) each time. As always, make sure that you are keeping good form when you jump as well.
Goal: Improve vertical leap, quickness, and footwork
Equipment Needed: None—just you!
Space: In place or 10–20 yards distance
Drill: Low Pogo Jump
Execution: Begin the drill in an athletic posture with the feet hip/shoulder-width apart. Raise heels up and stand on the balls of your feet. Quickly bounce up and down on the balls of your feet. Don't let your heels touch the ground.
Drill: High Pogo Jump
Execution: Starting the same as low pogo, stand tall with feet slightly spread apart about hip-width. Raise heels up and stand on the balls of your feet. Advance the low pogo drill by attempting to gain more height in your jump and still minimizing ground contact time.
This blog was written by Michael Blume, MS, SCCC; Athletic Performance Coach. To learn more about the NIFS bloggers, click here.