March is typically a make-or-break month for many folks as it relates to reaching their health and wellness goals for the new year. The resolutions are losing steam, weather tends to sway fitness decision-making, and focus begins to shift a bit away from what brought them to the gym in the first place. My message to many at this time of year is to continue to WIN EACH DAY! By that I mean have more checks in the win column than in the loss column. It's natural to slump a little—we haven't seen the sun in a month, for crying out loud. But continue to focus on doing those things that constitute WINS and limit those things that would be considered a LOSS.
NIFS Instructors Share Their Observations in the Gym
This is also a great time of year to hit a few reminders of what you should and should not do in the gym I asked the experts (the highly trained NIFS instructors): What are some things you see gym-goers do that needs immediate attention and correction? Along with a few of my own, here is what the team had to report on the common things we see in the gym that you should and should not do.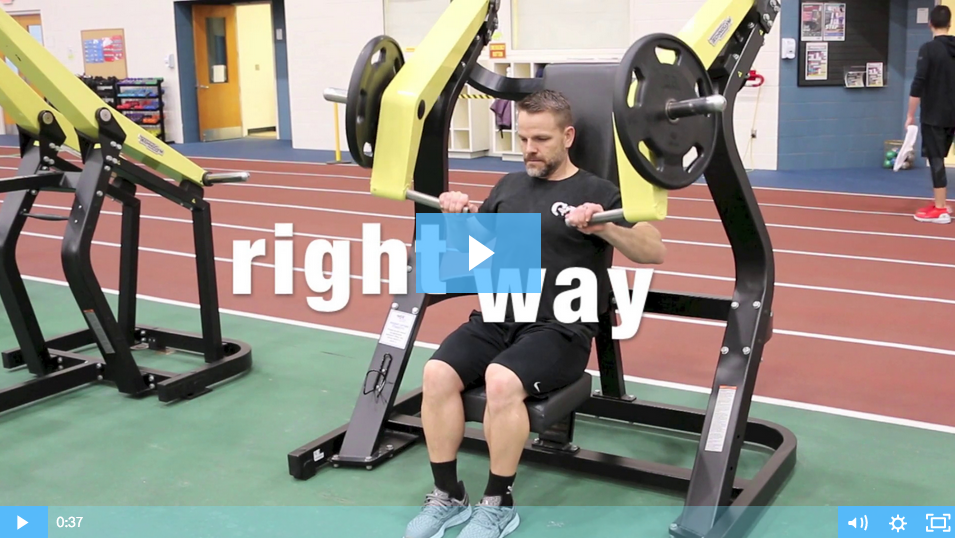 Tony: Control the Weights
Not controlling the weight of an exercise throughout the entire ROM.
Dropping the weight unsafely.
Holding on and hunching over a climb mill.
Standing the wrong direction in a squat rack.
Lauren: Deadlift
Tuck the chin in neutral spine
Use clips for safety
Thomas: Bicep Curl
The emphasis on bicep curl contraction is more pronounced when we isolate the muscle. this can be done by avoiding movement and momentum from arm swinging by pressing the elbows toward your sides
Sometimes, more weight does not make the exercise better, but better movement patterns can make the exercise more effective and safer
An easy way to also accomplish this would be to press your back against the wall and perform the exercise
Ashley: Proper Plank
Hips in the air/not a flat back
Proper way is flat back, hips level, core tight
Tinisi: Proper Lunge
Keep your upper body straight, with your shoulders back and relaxed and look straight ahead
lower your hips until both knees are bent at about a 90-degree angle
Core tight
Keep Striving for Wins and Contributing to Your Fitness Community
We covered a great deal of information here—pretty important stuff for both proper technique and fitness community etiquette. As I covered in my post Culture Club: How to Be a Strong Member of a Fitness Community, we are all in this together! And a community of support and positive energy is a place we can all thrive in, and must all contribute to. I know that some of the new year perspective may have lost a little sparkle, but you are still on the right track. Just remember, have more WINS than LOSSES and you will continue to improve!
This blog was written by Tony Maloney, ACSM Certified Exercise Physiologist and Fitness Center Manager. To find out more about the NIFS bloggers, click here.