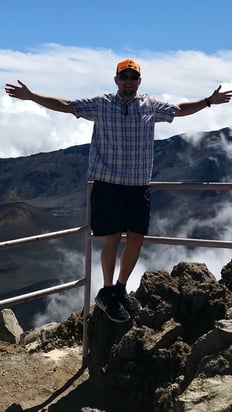 Holidays are times when you can relax and reflect, spend time with friends and family, and indulge in copious amounts of turkey, ham, mashed potatoes, and pie. Well, maybe don't eat so much pie. But we do have plenty of reasons to not only be grateful, and to be inspired for the future.
Top Ten Things That Inspire Me
You probably have a hundred things you are excited about for the next decade. I have compiled my personal Thomas's Top Ten list of things I am inspired by and that make me smile.
Good health: There's a lot to say about good health, such as being able to do things you like to do, go places you want to visit, and experience everything life has to offer. Being in the fitness industry predisposes a person to being health-minded, but it's not an easy road and definitely something not to be taken for granted.
Good friends: Spending time with friends is important. Like good health, this isn't always easy and sometimes there are roadblocks along the way. I believe my favorite place on earth is wherever my best friend is at that time.
Pets: If you have pets, you instantly have a built-in best friend. When treated well, these little animals can give you love and affection after a long day at work, or give you the inspiration to go out and exercise when you are tired.
Sunshine: Sunshine is such an important aspect of life that it comes in at number four on my list. Without the sunshine, there is no life. Go out on a sunny day and see for yourself. There is something to be said for rainy days too… without rain, there would be no trees, flowers, or rivers.
Fresh air: I am grateful for fresh air, even if it's cold and crisp. Being able to breathe well is something to be thankful for because it isn't easy for everyone. Fresh air can improve your sleep as well as overall well-being.
Clean water: Having a clean water source and plenty to go around is a beautiful thing. All too often, we take having clean water for granted. Our bodies need water to function well—and being able to stay outwardly clean doesn't hurt, either.
Good sleep: Sleeping is where we recharge our batteries. After a long day of work and play, our bodies need sleep to rebuild muscle and alleviate mental fatigue. Also, sleeping in on the weekend is okay!
Books: I am very grateful for not only the ability to read, but also all the books that inspire me in life and work. Even further, books allow not only for education, but also relaxation. There is something to be said about someone who enjoys being an active participant in their entertainment. Also, you can multiply your happiness when you share your books with your friends.
Music: Sometimes people can associate music and songs with nearly every aspect of their lives. You can almost define certain life events with music (what was your high school spirit song, or are there any songs that you remember from elementary school?). Also, music helps inspire and motivate people to exercise. Over the years, music may change, but the effect is still the same.
Mountains: This can be taken both literally and metaphorically. Mountains are amazing. Thousands of years old, stoic, and everlasting, mountains can be a destination for relaxation (vacation), exercise (hiking), and relaxation. Thinking outside the box, a "mountain" can represent your own personal goal for the coming year. I am thankful for mountains because they are the ultimate reason for pursuing a healthy lifestyle.
What Inspires You?
What ideas are on your Top Ten list? I'm sure there are many I have failed to list that are as important or possibly more important than the ones I have listed. Take a few moments and jot them on a piece of paper. That's how I started this blog!
Looking forward to a New Year and new decade is an exciting prospect. NIFS will be looking help you reach your goals, motivate you, and educate you with the most knowledgeable and expert advice available. Happy holidays and have a GREAT 2020.
This blog was written by Thomas Livengood, NIFS Health Fitness Instructor and Personal Trainer. To read more about the other NIFS bloggers, click here.