*NAME: Misty Mercer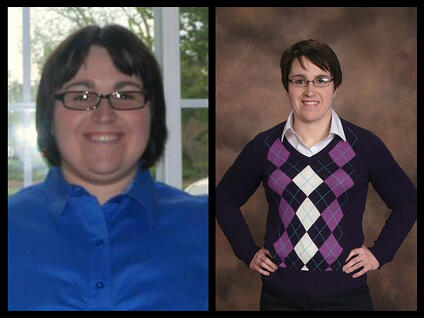 SHARE YOUR "STORY" OR A BIT ABOUT YOURSELF IN A FEW SENTENCES:
I made the decision for my 30th birthday to become a healthier person. I am now a 31-year-old formerly overweight attorney turned power lifter.
NIFS PROGRAMS YOU PARTICIPATED IN:
WHY DID YOU JOIN THIS PROGRAM/NIFS?
I had been overweight since childhood, and to be honest I assumed that I would always be overweight. However, when I turned 30, I sort of did a life evaluation. I realized that with the exception of one area, I had a great life and that I had achieved and done many things that I would not have thought possible before doing them. The one area where life wasn't all that great was my health. On my 30th birthday, I weighed around 275 pounds, and that was light compared to the 315 pounds that I weighed at my heaviest. While I didn't have any major health issues, I knew that it was only a matter of time before problems began to appear. I just didn't feel good.
At that point I made the decision to improve my health, and to do that I knew that I needed to lose a lot of weight. I also knew that I couldn't do it on my own, and that's why I searched for a gym where I could get the help and education I needed. That search led me to NIFS. NIFS' focus on fitness and health at all ages was what I was looking for.
When I joined NIFS in October 2012, the person who did my guest workout suggested that I try the Weight Loss program. The program sounded like the right fit for me since I wanted both nutrition counseling and fitness instruction. The one-on-one focus of the program is what especially drew me to it. When I completed the 14-week Weight Loss program it was around the time that the Slim It to Win It program was beginning, so I moved into that program to continue my progress.
SOMETHING YOU HAVE ENJOYED:
What I enjoy most about NIFS are the exercise prescriptions. I have never been able to really enjoy group workouts, but I am also not keen on developing my own program or using a commercial program. The exercise prescriptions developed by the fitness specialists are great in that they allow me to work out on my own with the knowledge that the routines were developed specifically with me in mind. Additionally, if I have a question or problem, I have someone, the fitness specialist, I can talk to.
SOMETHING YOU HAVE LEARNED OR SOMETHING THAT SURPRISED YOU:
I have learned how to powerlift (weightlifting using deadlift, back squat, and bench press). I am continually surprised by how much I have progressed since starting the program.
FAVORITE PIECE OF EQUIPMENT AT NIFS OR CLASS, PROGRAM, ETC. YOU USE?
The free weights.
WHAT ACCOMPLISHMENTS HAVE YOU ACHIEVED DURING YOUR TIME AT NIFS?
When I began the Weight Loss program on November 1, 2012, I weighed 272 pounds and was at 57% body fat. I am now down to 162 pounds and 25% body fat*.
*Weight loss claims and/or individual results vary and are not guaranteed.
I competed in my first powerlifting competition in March 2014 and set a 14-pound personal record on my deadlift (264 pounds).
WHAT STRUGGLES HAVE YOU ENCOUNTERED? TIPS YOU HAVE LEARNED ALONG THE WAY?
My primary area where I struggle is my diet. When I started, I didn't want to go "on a diet." I wanted to learn healthy eating skills that I could use for the rest of my life. I really struggled at first because I wanted everything I ate to be perfect, but that wasn't sustainable for me. The nutrition counseling sessions that were a part of the Weight Loss program were excellent in helping me realize that the perfect nutrition plan was one that I could remain on for the long term and that would incorporate a balance of healthy foods as well as the occasional treat.
In order to keep me eating a balanced diet, I track my progress in a food journal. Also I am always experimenting with new foods and techniques. I plan my meals in advance and pre-cook meals on the weekend that I can freeze for later.
HOW DO YOU STAY MOTIVATED?
I stay motivated by continually challenging myself. My goal is to always set some type of personal record when I go to the gym, regardless of whether it is lifting more weight, running a faster mile, or just stretching a bit further than I did last time.
ANY OTHER THOUGHTS YOU WISH TO SHARE:
Get to know the NIFS employees. They are great people and are always willing to help you out.
NIFS Weight Loss Memberships give you the extra tools you need to take off pounds and keep them off without compromising your health*. These programs focus on healthy eating, exercise and accountability. We recommend starting with our 14-week Ramp Up to Weight Loss Program.
*Weight loss claims and/or individual results vary and are not guaranteed.
Call Masie Duncan Weight Loss Membership Coordinator, at 274-3432 ext. 273 or email to find out about more about our Weight Loss Memberships options.
This blog was written by Tara Deal Rochford, NIFS Membership Manager and a group fitness instructor. Author of Treble in the Kitchen. Meet our other NIFS bloggers.