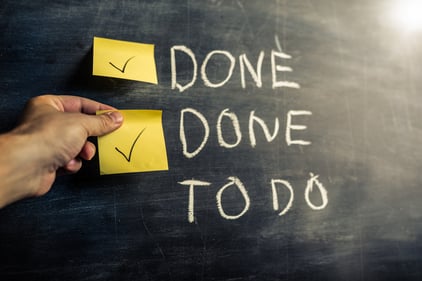 Welcome to the final installment of the productivity series. If you need a second to catch up, check out these posts regarding action (productive) vs. motion (busy), the Ivy Lee Method for prioritizing, and the Pomodoro Technique for time management. But if you're all up to speed, we'll dive right in!
Feeling Ashamed of Falling Short
Up to this point, I've covered topics and methods that are all geared toward the act of being productive. But what happens when you fall short of the productivity goals that you set for yourself?
Maybe you've stared down at the to-do list on your desk and asked yourself, "How did I only get this much done today?" Maybe you start to beat yourself up, or scold yourself like a parent would their kid. If you've ever found yourself in this position, you are not alone. Many high achievers have described themselves as having an "internal cattle prod" when it comes to their own productivity, constantly pushing themselves to do more and go further, until finally they reach an unsustainable pace. Researchers have coined the term productivity shame in regard to this phenomenon. But why do so many of us experience this feeling with regard to work?
A Productivity Expert on the Causes of Productivity Shame
Jocelyn K. Glei is an author, lecturer, and host of the podcast Hurry Slowly. She researches and presents on ways to optimize productivity and creativity, and how to be more resilient in the workplace and in our daily lives. She describes productivity shame as "a toxic substance that slowly corrodes your ability to take any joy in your work." She cites examples that may sound all too familiar to some, such as committing to a workload that you intuitively know is unrealistic. Or maybe you set an incredibly challenging goal for yourself (not inherently a bad thing) but you fail to set up a structure for support or accountability, then berate yourself for failing to reach that goal.
Glei has run into this numerous times with students in her class and those with whom she consults in the workplace. She cites potential causes as our instant-gratification culture, one that is fueled by social media and technology. If we have to wait for something to download because the internet connection is weak, if our Instagram post doesn't get a certain amount of likes right away, if we have to wait longer than 2 minutes in a drive-thru line, its nearly to the point where some feel accosted by these things. It's downright annoying. Over time, we may slowly be wiring ourselves to expect this same level of speed when it comes to our creativity and productivity—which only sets us up for failure.
Tips for More Realistic Productivity
So how can you combat productivity shame? How can you be more realistic in both the workplace and in your daily life when it comes to your to-do's? Here are a few techniques you can use today to avoid productivity shame:
Limit your to-do List to only the absolutely necessary things. Try the Ivy Lee Method the night before, but limit it to your big-ticket items, and no more than two or three. The more on your list, the more likely that guilt will creep in at the end of the day.
Set aside designated time within your day to work only on those two or three big to-do's. If you work in an office, have a closed-door policy for an hour. If you work from home, set a timer, put the phone in a drawer out of sight, and close out unnecessary tabs on your computer. Those small, seemingly insignificant distractions add up in a big way.
Find an accountabili-buddy. This can be someone in the workplace or your personal life who can act as a check-in for you on the way to your goals. Having a physical means of accountability can help you stay on track, whether it's a project at work or a side hustle at home.
Get up and move! Sometimes a short workout or even a walk can stimulate ideas, clear your mind, and spur creativity.
Give a few of these a try, and see if that inner guilt trip voice of "shoulda-woulda-coulda" quiets down for a bit.
This blog was written by Lauren Zakrajsek, NIFS Health Fitness Instructor, Personal Trainer, and Internship Coordinator. To learn more about the NIFS bloggers, click here.